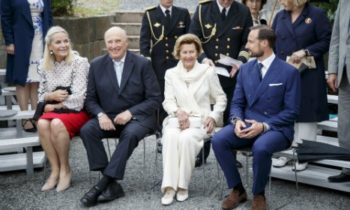 Money awarded by parliament to the Royal House is spent on maintaining King Harald and Crown Prince Haakon's privately-owned estates, according to a report by Dagbladet newspaper.
Large sums of the annual money allotted to the King and Queen, as well as the Crown Prince and Princess, are entitled to an apanage – 20.5 million kroner ($2.5 million) in 2016 – have for years been used to cover expenses related to the maintenance of King Harald and Crown Prince Haakon's private property, Dagbladet reported on Thursday.
Similarly, ordinary state allowances are provided to the Royal House to pay the wages of employees who carry out maintenance work on the private properties.
The two royal couples own five holiday homes in different parts of Norway. Prince Haakon also owns the Skaugum estate near Oslo, while King Harald owns Kongsseteren (The Royal Lodge) at the Holmenkollen ski resort.
The royals' director of communications, Marianne Hagen, told Dagbladet that the state allowance is used to pay employee wages, saying that nothing in the royals' appropriation structure limits employees from working on the privately-owned properties.
Dagbladet's new report on royal spending follows on from news in April that the Norwegian monarchy costs the state 460 million kroner ($55 million) per year, with 117 million of this being spent on items – mostly police escorts – not accounted for by the state's Royal House budget.
The total cost of the monarchy has grown by about 37 percent in just six years while the royals' salary payments have more than doubled since 2002, according to Dagbladet.
The Center Party's Per Olaf Lundteigen, who is responsible for state grants to the royals, has now requested an overview accounting for their use.
"Parliament must have an account from the royals in good time prior to approval of the state budget for 2017. As such, it is natural that the Royal House discloses its expenses in relation to this type of maintenance work, and that it discloses the number of hours employees have spent on repair and maintenance work on the royals' privately owned property," Mundteigen told Dagbladet.