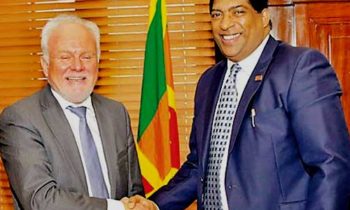 The Norwegian government has taken actions to give more Investment opportunities to Sri Lanka in their fish market with the lifting of the ban imposed by the European Union on exports of Sri Lankan fish and fishery products, the Finance Ministry said.
Following a meeting with the Finance Minister, Ravi Karunanayake earlier this week, the Norwegian Ambassador to Sri Lanka Thorbjørn Gaustadsæther has said that with the lifting of the ban Sri Lanka has gained opportunity to invest in fish exports industry in Norway.
The meeting with the Norwegian Ambassador was a follow-up on a meeting the Finance Minister held with his Norwegian counterpart Ms. Siv Jensen in Washington, while participating for Spring Meetings of the IMF and World Bank Group.Finance Minister has said that now Sri Lanka is receiving outcomes of positive aspects like financial discipline and transparency, lifting of fish export ban imposed by the European Union will be a great potential for Sri Lanka's Economy.
The Norwegian Ambassador assured that his government will take steps to enhance the trade and commercial affairs between Sri Lanka and Norway.