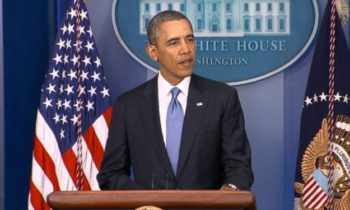 US President Barack Obama has warned Russia against its "aggressive" military build-up in northern Europe.
Obama made the remarks on Friday after meeting with Nordic leaders from Iceland, Sweden, Norway, Finland, and Denmark at the White House.
"We are united in our concern about Russia's growing aggressive military presence and posture in the Baltic-Nordic region," he said.
Meanwhile, Denmark, Norway reportedly agreed to contribute to "enhanced allied forward presence" with the North Atlantic Organization Treaty (NATO).
The United States on Thursday activated a land-based missile system in Romania, despite Russia's warning against a systematically increasing US-led arms deployment near its borders.
The missiles' activation marked the penultimate step in the completion of a missile shield, which Washington proposed nearly a decade ago.
Senior American and NATO officials attended the activation ceremony in Deveselu, southern Romania.
On Friday, Russian President Vladimir Putin strongly criticized the deployment of the US missile system near his country, and vowed to neutralize any threats against Russia.
"Now that these anti-missile elements have been installed we will be forced to consider putting an end to the threats emerging in relation to Russia's security," Putin said during a meeting with military officials.
He also stressed that Moscow is doing its best to sustain strategic balance of power.
(alalam)