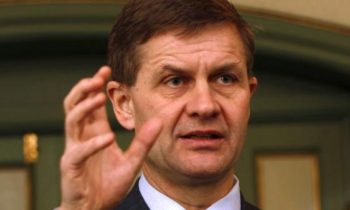 The United Nations' top climate change official, Christiana Figueres, welcomed the confirmation today of Norwegian Erik Solheim as Executive Director of the United Nations Environment Programme (UNEP) and applauded the work of the programme's outgoing head.
The confirmation was announced by United Nations Secretary-General Ban Ki-moon in New York, after his nomination was elected by the UN General Assembly.
"The world is facing unprecedented environmental challenges, demanding serious, capable leaders on many fronts," said Ms. Figueres, Executive Secretary of the United Nations Framework Convention on Climate Change. "The United Nations has such a leader for its top environment post in Erik Solheim."
Mr. Solheim is currently Chair of the Development Assistance Committee of the Organization for Economic Cooperation and Development. He was Norway's Minister for the Environment and International Development from 2007 to 2012 and Minister for International Development from 2005 to 2007. He will take over from Achim Steiner, who has led UNEP since 2006.
"The United Nations, indeed everyone who cares for this planet, owes huge appreciation to the outgoing UNEP Executive Director Achim Steiner," said Ms. Figueres. "His leadership, intellect, dedication and compelling communications have driven impressive progress on a broad range of environmental issues for the past decade, not least on climate change and our wonderful outcome in Paris. Personally I have highly valued his support, advice and friendship."
When he takes up his new post, Mr. Solheim will become the 6th person to head UNEP since its founding in 1972 as the leading global environmental authority.