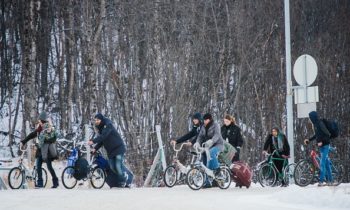 On Tuesday, Norway began sending refugees and migrants who battled temperatures approaching 30 degrees below zero to cross the country's Arctic border. The UN criticized Norway's treatment toward migrants stating this move might send people freezing to death.Mashable reported that 13 people boarded a bus to cross the Russian border after leaving a reception facility in Kirkenes, Norway.  Immigration officers confirmed this report and said that the bus left at around 6 pm and eight men had volunteered to go. Sylvi Listhaug, one of the immigration minister, said that the migrants would be taken to Nikel and Murmansk, in Russia.
Some migrants who feared deportation have already left the asylum center located in Vadso, which is located near the border. There have been no reports yet as to what happened to them. According to Al Jazeera, 30 asylum seekers, mostly Syrians, went on a hunger strike to demonstrate protest against Norway's plan of sending back 55 refugees to Russia by bus.
An estimated 5,500 refugees and migrants capitalized on an opportunity which allows cyclists to pass through the northern Storskog crossing between Russia and Norway. This all happened in 2015 while the two countries prohibit people from crossing the border by car or on foot with legal documents. .
In December, the newly appointed Norwegian immigration minister Sylvi Listhaug vowed to make the law tighter regarding the flow of refugees in the country. The minister announced that all refugees who crossed at Storskog without an appropriate visa would risk being sent back to Russia, as reported by The Guardian. Listhaug told the parliament on Tuesday evening that if Norway is to have a fair asylum policy, the country needs to send back those refugees who are not entitled to protection.
Meanwhile, the UN warned Norway that it was likely to be in breach of the UN refugee convention. Vincent Cochetel, the UN high commissioner for refugees, expressed his fear and worried about refugees getting lost and freezing to death. "There are large cracks in the Russian asylum system. We believe Norway is wrong to regard Russia as a safe country for people who need protection," the commissioner said.
Also, the European court of human rights rejected a last-ditch appeal made by Halvor Frihagen, an asylum lawyer in Oslo, to stop the deportations. Norway made a promise to relocate 9,000 Syrian migrants by the end of 2015.
(lawyerherald)