Colombo Dockyard PLC (CDPLC) delivered "Misje Vita '', a 5,000 DWT Eco Bulk Carrier built for Misje Eco Bulk AS, Norway(Misje) bringing in the much needed foreign exchange to the country.
CDPLC signed and executed shipbuilding contracts with Misje Eco Bulk AS (Misje) a Norwegian company, in March 2020 for four vessels and in December 2021 for another two vessels and reservation of dock slots for additional four vessels in September 2022.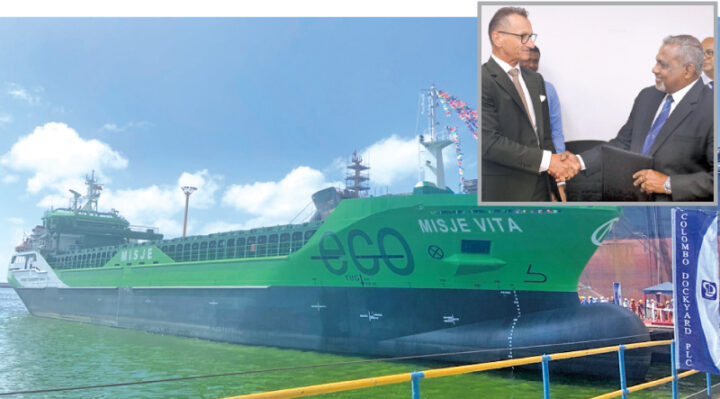 Misje Eco Bulk AS is CDPLC's first European customer for a shipbuilding project and the delivery of the vessel marks a historic milestone in Sri Lankan shipbuilding which demonstrates the CDPLC's ability to undertake different types of vessels with varying and modern technologies. Sri Lanka's economy is striving to recover from a serious downturn, and CDPLC has been able to manage operations during this difficult period through aggressive planning and continuous government support.
This is the first vessel of the series and this 89.95m long vessel is designed to hold a cargo capacity of 5,000 DWT. The type of cargo it could carry includes bulk cargo, grain, timber, unit loads and containers. These vessels are designed to be sustainable and climate friendly with lower emissions compared to conventional bulk carriers of the same size.
These state-of-the-art bulk carrier concepts are in line with the owner's vision of providing Norwegian and European industrial customers with the most profitable, predictable, safe, and most environmentally friendly maritime transport services.
The design and basic design were developed by Wartsila Ship Design Norway AS. Detailed design was carried out in house by the CDPLC design team.
This project illustrates CDPLC's reputation in the European Market with the brand "Built in Sri Lanka blending Sri Lankan technology with Japanese quality" receiving high recognition and acceptance in the European market. CDPLC operates in joint collaboration with Onomichi Dockyard Company Limited of Japan with a 35% stake bySri Lankan Government institutions.
With the steady support of the Sri Lankan Government authorities in CDPLC's growth pursuits CDPLC is confident in continuing our growth strategies despite the challenges faced in Sri Lanka.