The U.S. government is considering sanctioning Spain for the aid that the socialist government of Prime Minister Pedro Sánchez would be provide to Venezuelan President Nicolás Maduro. The Treasury Department is studying economic sanctions against its NATO ally which, if implemented, could be a serious setback for the Spanish economy.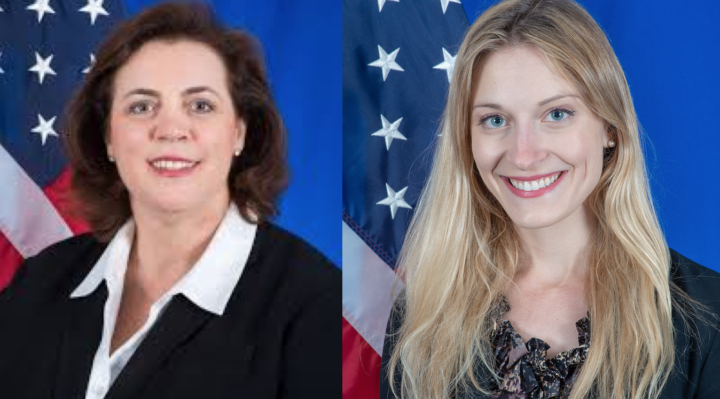 Below is a full rush transcript of the press conference with Acting Assistant Secretary Carol Thompson O'Connell Bureau of Population, Refugees, and Migration and Deputy Assistant Secretary Carrie Filipetti Bureau of Western Hemisphere Affairs
Acting Assistant Secretary O'Connell: I'm Carol Thompson O'Connell and I lead the State Department's Bureau of Population, Refugees, and Migration. We're – we work to advance America's leadership in humanitarian affairs.
The United States is proud to be a leader in humanitarian assistance. In Fiscal Year 2019, the United States contributed nearly $9.3 billion to supporting crises globally – to supporting the – sorry, supporting humanitarian crises, and we have been – which is the largest – we are the largest contributing country in the world.
The United States has also been the largest financial donor to the Venezuelan crisis. When I was in Brussels, I announced more than $10 million in additional economic and development assistance, which will provide HIV/AIDS treatment, critical vaccinations, and support for anti-human-trafficking activities. This assistance is in addition to the nearly $119 million in humanitarian assistance that was announced by Secretary of State Pompeo in late September. The total U.S. Government crisis response is more than $650 million, of which nearly 473 million is life-saving humanitarian assistance that meets the needs of people affected by this crisis and promotes stability in Venezuela and the region.
Nearly 4.5 million Venezuelans have fled their country due to the actions of the Maduro regime. The United States works with international and nongovernmental partners to complement the efforts of governments hosting these Venezuelan refugees. Our assistance provides temporary shelter and access to food, water, sanitation facilities, and other essential needs. Our assistance also increases the capacity of regional asylum authorities and provides legal support to the Venezuelan asylum seekers. Our programs also help Venezuelans integrate into their host communities by finding employment and access to education and health care.
I was recently on a visit to Colombia, where I was able to see our assistance in action assisting Venezuelan refugees who have fled to Colombia. In a Colombian school, I met with children who are able to attend school and get an education – because access to education provides hope, helps children find stability and normalcy in very difficult situations. And so I was also part of announcing a $24.5 million funding for Education Cannot Wait, together with USAID. We partnered with the LEGO Foundation back in September. And as I said, by investing in the future of vulnerable children, we improve health and wellbeing, and that is able to boost the quality of life for everyone in the community.
When I was in Colombia, I also was at a shelter where I met with Venezuelan families who left everything behind in order to survive. Our assistance provides protection and a safe space for families, children, and vulnerable people during this crisis.
We are concerned because gaps remain in the crisis response. We hear reports of gender-based violence with women as well as the risk of human trafficking at the Venezuelan border. The danger of discrimination against Venezuelans seeking work, shelter, and health care also remains. As many countries in the region become a final destination for Venezuelans, the response must provide both long-term integration and development aid in addition to immediate humanitarian assistance.
We welcome efforts of the World Bank Group and Inter-American Development Bank to invest in the region, and we believe it's important to include private sector, the diaspora, and Venezuelan civil society in the region – key stakeholders.
We also thank our European partners for their response to the crisis and call on them to increase their support for the Venezuelan people in response to the tyranny of the Maduro regime.
Deputy Assistant Secretary Filipetti: Thank you very much, and I just want to reiterate Assistant Secretary O'Connell's thanks for everybody joining. I think it's important that we focus on what just transpired in Brussels.
The conference that was hosted by the EU, IOM, and UNHCR, of course, was an enormously useful and productive conference that I think highlighted two really key points. The first is that this is a global crisis that requires and can expect a global solution. It was clear from the interventions by numerous European as well as Latin American countries that we are not going to abandon the people of Venezuela. While it was not a pledging conference, there were still significant amounts that were contributed during the course of the conference – about €100 million or so – and we can give a little bit more fidelity on those numbers for those to whom it's of interest.
It demonstrates that the Europeans are focused on this issue and are willing to consider new ways that they can help try to address the Maduro-caused crisis. I think there was a particular focus on ways in which they can be useful in health care and also, as the Assistant Secretary mentioned, on trying to address some of the extreme gender-based violence that we're seeing as a result of this crisis.
Of course, it also demonstrated the U.S. commitment. We had a very strong delegation that was present. We announced, as the Assistant Secretary said, additional assistance to help address the crisis on the borders, and, of course, that is added to our existing sums, which put us at well over $650 million in response.
The second thing that was critical about this conference is that through much of the interventions there was a clear acknowledgment that while the focus of the discussion was on providing humanitarian assistance, the roots of that crisis are political in nature, and therefore, in order to really address the crisis, we need to find a political solution. And so that dovetails a lot with the continued U.S. efforts to put pressure on the Maduro regime through additional sanctions, through diplomatic pressure, and through, of course, engagement with our 55 other partners who have recognized Interim President Guaido. We're especially excited to see the members of the Rio Treaty continue to debate next steps on pressure against the Maduro regime, and, of course, that the Europeans called this conference and recognized the political roots of the crisis is another signal that we can hopefully see some additional efforts on their side to freeze more assets, to restrict travel, and, of course, to implement some additional sanctions on top of the seven new sanctions they announced back in September.
In addition, we, of course, are also continuing our support for the National Assembly and Interim President Juan Guaido, which has been a key part of our strategy since January 23rd, when the interim president came into that position through constitutional means.
So I'll leave it there. I'm sure there are a number of questions on both the conference itself as well as some of the broader political context, which I'm more than happy to answer. And thank you very much; we always appreciate the opportunity to speak with the press directly on these issues.
Question: In the European Union, the Colombian Foreign Minister Carlos Homes Trujillo said that there is no sense of urgency of the Venezuelan refugee crisis. He calls for similar treatment to Syrian refugees. Do you think that it's true? What do you think it takes to be given the meaning it deserves?
Acting Assistant Secretary O'Connell: I think that there is no doubt that there are – that the Venezuelan crisis is urgent, and it should be given a sense of urgency. When nearly 5 million people have been forcibly displaced and had to flee their country to find basic necessities of life – shelter, food, water, safety – there's nothing that you can describe but urgent to deal with the political situation in Venezuela.
The countries in the region have been dealing with this crisis for months, and some for years. They have done a phenomenal job in welcoming Venezuelan refugees and migrants into their – into their countries. They have opened their doors to allow them access to health care, to safety, and in many cases to education for their children. But the world – the rest of the world needs to understand the magnitude of this crisis and needs to understand that this is not just a regional crisis. This is a crisis that will and does affect the countries of the rest of the world and needs to be treated as so.
Deputy Assistant Secretary Filipetti: And I would just add, Emanuel, I think we absolutely – as the Assistant Secretary said, we absolutely share the need for this to be seen as urgent. The UN appeal, at least prior to the conference, had only been funded something like 48 percent, and 70 percent of that was coming from the United States alone. And so the value of this conference was actually to respond to some of the concerns that the Europeans needed to see that sense of urgency, and this was them coming together to demonstrate that they do see the urgency and that they want to get more actively involved.
What's critical now is that we follow up the discussions with real action. One of the things that the Venezuelans had pointed out to us and that we've been trying to reiterate is when you talk about how dire this crisis is, people who are walking from the border between Venezuela and Colombia to Lima is like walking from Brussels to Helsinki. These are distances that I think we try to make it clear to the Europeans exactly what we're talking about. It's the largest humanitarian crisis in the Western Hemisphere, but it's actually the largest humanitarian crisis in the world that's not caused by war or natural disaster.
So it absolutely requires a sense of urgency. Colombia, Peru, Ecuador, Brazil, Curacao, all of these countries have been enormously generous in opening their doors and regularizing these migrants and refugees, but it's critical that they have the support of the international community. I think that's exactly what this conference was trying to do.
Question: A Venezuelan civil society organization denounced yesterday in Miami irregularities in the deportations of Venezuelans to third countries. They're saying these Venezuelans are being forced to go back to Venezuela when they arrived to, for example, Colombia. So can you provide, like, more details on how you're helping Venezuelan asylum seekers in the region? And what are you doing to prevent these deportations from the U.S. that so many political actors are describing as absurd?
Deputy Assistant Secretary Filipetti: I can jump in, Nora, just with a quick response. So a major part of the participation of the United States in this conference was both to engage with our European partners to try to encourage more donations, more attention on the crisis in Venezuela; it was also to work with our partners in the region who are accepting refugees and migrants to better understand what their difficulties are and to encourage them to engage in regularizing the migrants who are coming to their countries and, of course, making sure that there are any humanitarian carve-outs or exemptions that may be necessary to ensure that people find a safe place to go.
I think it's fair to say that all of our allies in the region have done a great job of doing what they can to absorb these migrants and refugees, and we're going to continue to work with them to make sure that they're applying all of the best practices and taking care of these Venezuelans who really are just looking for a place to stay and basic access to food and education and health care.
Something that we were really grateful to see is a number of countries spoke not about the refugees and migrants as any kind of a burden on their country, but rather as a real opportunity and advantage in bringing new skills and contributing new ideas to their countries. I know that there was discussion about increased percentage of entrepreneurship coming out of those countries because of Venezuelan refugees and migrants, and so that kind of language and that kind of focus on the opportunity is something that I think is enormously powerful.
Acting Assistant Secretary O'Connell: I just wanted to emphasize what Carrie has been saying. We're certainly working on a daily basis with the countries in the region to make sure that those who are in need of asylum are able to access protections. Our assistance increases the capacity of regional asylum authorities to provide support for Venezuelan asylum seekers, but – and something that we're reminding countries on a regular basis, which they're all in agreement, that those who decide that they would want to return somewhere would do so voluntarily and in safety and with dignity.
Question: Days ago, the Special Envoy Elliott Abrams traveled to Europe to seek support. Now you visit Europe to attend this conference. Do you think that the position of that country has changed? Did you also hold private meetings to get support with the sanctions?
Deputy Assistant Secretary Filipetti: So it has been a key part of our engagement on Venezuela to ensure that we're speaking to all of our partners internationally, and again, that they're seeing this not just as a crisis inside Venezuela, not just as a regional crisis, but now what it truly is, which is a global crisis. It's certainly the case that we've seen a lot of improvements from our European partners. We continue to make asks of them, as you pointed out, because the Europeans have an especially important role to play here. They have themselves handled a lot of migrants and refugees from crises nearer to them. They have some knowledge on best practices. They have new ideas and, of course, they can come with some measure of funding, which is desperately needed in the region.
So we spoke to them on the margins of this conference as well as Special Envoy Abrams to talk to them about how they can continue to play a central role.
Another major ask we have of them is on the sanctions piece. I want to make it clear that when we talk about sanctions, we're not talking about pressure for pressure's sake. The sanctions are the only reason – and this is from the mouth of Maduro himself – the only reason that he came to the table to negotiate at Oslo. We believe that with additional pressure, he will actually engage in good faith, which is what is desperately needed and what has been missing from the previous negotiations in 2016, 2017, and then, of course, also this year in 2019. And so as we build a growing coalition of countries that are focused on this pressure, that are focused on ensuring that there is a cost and a penalty for his continued harassment, intimidation, and abuse of the Venezuelan people, then we think we will get even closer to a political solution.
We made a lot of progress during this conference because, once again, there was a recognition that the roots are political. There is a sense of urgency on addressing that political crisis. And, of course, I think we're going to see a lot more efforts coming out certainly from the region as they focus on new pressure options associated with the Rio Treaty.
Acting Assistant Secretary O'Connell: And I just wanted to add that the conference I think did a phenomenal job in bringing us all together, in giving a platform for the countries in the region to be able to express the work that they've been doing to welcome Venezuelan refugees and migrants, and I think it's significant that Spain, Germany, Ireland, Italy, and the EU also, while this was not a pledging conference, they did step up and make a contribution to this crisis. So it's a start and it's something that I think that they stepped up to contribute to the humanitarian situation because they recognize that the needs are great and getting greater.
Question: Now, isn't the problem really, politically, the fact that Maduro has still a large support in the population of the poor people who believe in the Bolivarian revolution of Chavez, and so that Mr. Guaido, on the contrary, is losing many of his supporters who fled as soon as they could, and many of them are educated so they could flee early? So isn't that the real issue here and efforts must be made to make sure that they participate in good faith to the conference to try to find a solution?
Deputy Assistant Secretary Filipetti: Yes, I mean, certainly we believe that a political solution is the key element that will – that will help resolve the humanitarian crisis, and I think that during the course of this conference it became very clear that other countries were focused on both responding to the immediacy of the humanitarian crisis but also in channeling some of their efforts towards finding a political solution.
You're also right that the focus needs to be on getting Maduro to the table to engage in good faith, and unfortunately, as we have seen, that is not what he has been interested in doing. Throughout all of the negotiation processes that Maduro has been a part of, he has used that time and space created by the conversations and discussions to further intimidate, harass, arrest, and torture members of the opposition, members of the Venezuelan public who are expressing different viewpoints than those that he wants them to.
The only part of your question that I – that I would challenge is we are continuing to see polling that indicates that Interim President Guaido has the majority of support of the Venezuelan people. We're continuing to see thousands of Venezuelans protest. There are hundreds of protests every single month. And again, we have a coalition of 56 countries now that recognize Interim President Guaido and are doing what they can to help advance him and his mission to bring democracy back to Venezuela.
So I would say that the path that we are on is a very good one, and when we see more Europeans join the call for Maduro to engage in good faith and implement the pressure to ensure that he does so, I think we'll get to where we need to be.
Acting Assistant Secretary O'Connell: I'd like to just add that Mr. Maduro and his regime have blocked humanitarian access to Venezuela, which is unconscionable given the situation that he created. The Secretary of State announced nearly $36 million to help humanitarian operations inside Venezuela for the people – the 7 million internally displaced people inside Venezuela who are searching for food, clean water, and shelter. The assistance that we've provided also brings medicine, hygiene kits, support for immunization efforts, and we look to our humanitarian partners, both international, nongovernmental partners who are there to help implement the programs for so many people that are in need.
Acting Assistant Secretary O'Connell: I think that the conversation that we've had hopefully outlines and elucidates the commitment that the United States has to the people who are suffering, the people who have been displaced due to this crisis. It's a crisis that is manmade and the conference in Brussels was a key factor in highlighting that this is something that the regional – the countries in the region have been working hard and working – and to welcome Venezuelans who have been displaced into their countries, but more importantly, that they need assistance, that we need to come together and support those who are fleeing exploitation, violence, and looking for safety and protection.
Deputy Assistant Secretary Filipetti: I would only add, once again, reiterate my thanks to all of you for joining this, for your continued focus on the crisis in Venezuela. The name of the conference referenced solidarity, and I think that's exactly what we saw: that the Venezuelan people can rely not just on the United States, not just on the region, not just on those countries that are opening their borders to these Venezuelan migrants and refugees, but also to the European Union and to its member-states who are now reflecting the sense of urgency that this crisis demands.