Each year, during the Lunar New Year celebrations, a small Arctic Chinatown takes shape near Norway's border with Russia and Finland. It's an indication of how China, though a non-Arctic state, is increasingly eyeing opportunities in the region.
Shops decorated with lightboxes, Chinese signs and a Paifang-inspired arch appear in the pedestrian zone of Norway's Arctic town of Kirkenes, "welcoming the future as the most important city on the Polar Silk Road," according to the town's official website.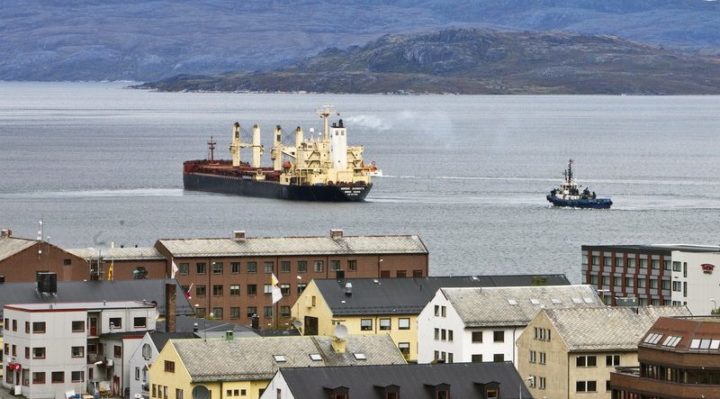 "China is a new player," Rune Rafaelsen, the mayor of Sør-Varanger, a municipality in the far northeast corner of Norway, told Media.
"We are responding to the fact that the economic centre of the world, which has for hundreds of years been Europe and the US, in the near future will shift towards Southeast Asia," he added.
Dreams of 'Arctic Rotterdam'
In recent time, the Arctic's Northern Sea Route has seen explosive growth in traffic as the sea corridor between China and Europe cuts the travel by 40% compared to sailing via the Suez Canal.
Arctic nations are building new more powerful icebreakers able to open year-round shipping lanes.
For China, the new Arctic sea route is part of its Belt and Road Initiative and in line with its 2018 Arctic policy white paper, where Bejing pledged to develop shipping routes, in cooperation with 'all parties'.
China frequently encourages its companies to participate in building infrastructure on the stretch along the Russian Arctic coast all the way to Europe.
State-owned Cosco Shipping Group has already established footholds in Europe by investing in port terminals that were previously neglected by private European operators, from Spain, Portugal, Belgium or Greece.
So far, Chinese shipments were experimental in character, but this could quickly change as climate researchers predict that in 20 years, the Arctic could become ice-free in the summer.
For Arctic towns like Kirkenes, whose economy has so far relied on fishing, iron-ore mining and tourism, this means dreams of an 'Arctic Rotterdam' that could turn northern Scandinavia into a logistical hub and a new major trade corridor between Asia and Europe.
"Ten years ago, there were three million tonnes of cargo shipped along the Northern Sea Route, last year it was nearly 30 million and in 2030 it will be 90 million tonnes," Rafaelsen said.
This also calls for new major regional infrastructure projects to adjust the region to increased economic activity.
According to Rafaelsen, Kirkenes could get a mega port – the first and last stop in the European Economic Area along the Northeast passage – with train connections to Rovaniemi in Finland and further south to Helsinki, even across the Baltic sea to Estonia.
Residents and officials have questioned the commercial and environmental impact of such development while the Sami, an indigenous people who herd reindeer across the region, see a threat to their livelihoods and culture.
Meanwhile, major telecommunications projects are underway to connect Japan and Vladivostok with Kirkenes via underwater telecom cables.
And China is more than willing to provide the required investments.
"We don't have much Chinese investment so far, but rather lots of companies coming to explore what is possible in the future," Kirkenes' mayor said.
Rafaelsen frequently visits China to promote the municipality's businesses. Last year he and his delegations paid visits to the port town of Yingkou, with which he hopes to establish future relations.
However, asked if he shares European and US concerns about Chinese foreign investment, the mayor replied that "it would be very wise of Norway to own its own infrastructure."
"If there should be a railway, a new harbour, it should be owned by Norway, or at least not controlled by foreigners," he emphasised.
However, Rafaelsen pointed out that China is a challenge for Russia as well.
"People were negative when we started to cooperate with Russia, they are also negative as we start cooperating with the Chinese, but I think the only solution for the Arctic and for international cooperation is to have a dialogue."
To Rafaelsen it is clear: "The window of opportunity is open to ask the question how the West can reinvent its cooperation with Russia, while at the same positioning itself regarding China."
Similar statements can be heard from Oslo, which according to Norway's industry minister hopes for a China free-trade deal in 2020.
Trade talks began in 2008 but relations between Oslo and Beijing were frozen from 2010 to 2016, after the Norwegian Nobel Committee awarded the Nobel Peace Prize to a Chinese dissident.
But while the Norwegian approach is to welcome investments and competition in the region, Audun Halvorsen, state secretary of the Norwegian foreign ministry, said Oslo is not blind to the concerns.
"In all European countries there is growing attention to the need to have a legal framework which makes it possible to screen investments in order to protect critical infrastructure and enable us to make the necessary analysis if you look at foreign investment," he told EURACTIV.
Audun, however, also emphasised that looking more broadly at China's actions in the region, "you'll see they are working within the established governance structures, within the framework of international law and as an observer to the Arctic Council."
Playing by the rules of the game?
"In the Arctic, some of the Chinese activity has been welcomed, like the increasing emphasis on climate science and participation as an observer in the Arctic Council," Arild Moe, a researcher at the Fridtjof Nansen Institute, told EURACTIV.
But while Chinese investments are seen positively by many Arctic communities, reservations have been growing in recent times.
"Those are based not on experience in the Arctic, since there have so far been few actual investments, but on the impression of Chinese behaviour elsewhere," Moe said, adding that reports on activities linked to the Belt and Road projects have caused concern about debt traps and Chinese labour crowding out locals.
An official who asked not to be named said it was crucial to maintain rule of law in the region.
"We have to be clear that the Arctic is not the South China Sea. Here, legal order and the Law of the Seas applies, and we will make an effort to keep it that way", the official told Media.