US Undersecretary of State for Economic Affairs Keith Krach has urged Germany to support NATO by expelling the Chinese tech giant Huawei from its 5G mobile network. The statement comes after German officials said last week that the country's new rules stipulate an option for senior cabinet members to issue objections based on political risk before Huawei components enter the German 5G network. Earlier, Germany's Interior Minister Horst Seehofer warned that if Huawei is excluded from the country's 5G rollout project, it could be stalled for as long as five or even ten years.
Huawei founder Ren Zhengfei, for his part, said in a statement in early September that the company had been forced to change numerous components and algorithms in its devices to cope with restrictions from the United States.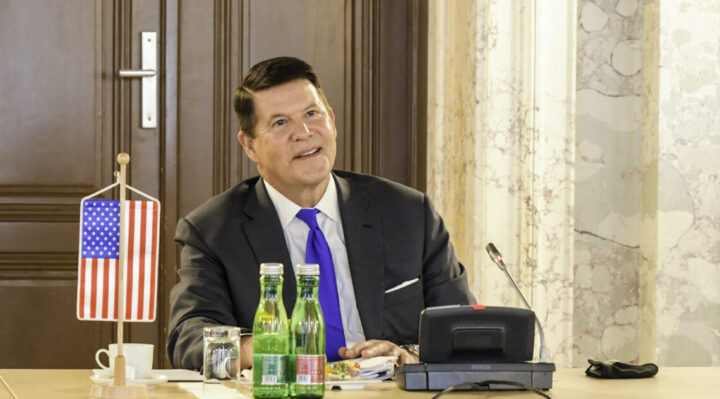 Below is a full rush transcript of the press conference by Keith Krach Under Secretary of State for Economic Growth, Energy, and the Environment.
Under Secretary Krach: I'm in the midst of a 10-day, eight-country swing through Europe. And on this trip I've met with many EU leaders and discussed a number of issues since I've been here – from the pandemic relief to supply chain diversity. But there is one issue above all the others that forms the purpose of my trip. And the reality that the transatlantic alliance faces one of an ever-increasing cyber warfare, seemingly ceaseless variations of intense, perhaps even weaponized, economic competition.
The Chinese Communist Party presents a real and urgent threat to democracies and companies here in Europe, and all around the world. The CCP has exploited the institutions of the free world, such as the WTO, and this is to gain an upper hand over the same free nations that enabled its prosperity. Rather than open up, the Chinese Government intensified its aggression. It imposed market restrictions, forced technology transfers, and stole intellectual property.
We're free traders, but when someone comes into the market and doesn't play by the rules, the market is no longer free. And all along, we thought capitalism would equal democracy. In China's case, we were wrong. As Secretary Pompeo says, it's time to take off our rose-colored glasses and treat China not how we hope they'd be, but how they really are.
And now, on both sides of the aisle back in Washington, they truly understand the CCP is playing the long game, and they're playing for keeps. They fancy themselves as masters of a four-dimensional game of economic, military, diplomatic, and cultural chess. Worst of all, they believe they're above the rules. In this high-stakes competition, there is nothing static about NATO security – it can vanish in an instant – and there is no substitute for a coalition of freedom.
A challenge of this magnitude cannot be done alone. It's a team sport and it will require the synergistic effects across all our governments as well as our powerful private sectors. To prevent CCP authoritarianism from winning the day on 5G, NATO Secretary General Jens Stoltenberg recently remarked on the China challenge, "We have to make sure that Europe and North America stand together."
For years, the CCP has been putting pressure on telecommunications companies and countries to buy from Huawei, knowing that its national intelligence law can oblige Huawei to share data from these countries and companies at any time. CCP's stated doctrine is to seduce with money and reinforce with intimidation and retaliation. Untrusted, high-risk vendors like Huawei and ZTE provide the CCP's authoritarian government the capability to disrupt or weaponize critical applications and infrastructure or provide technological advances to China's military forces. And it's no secret that Huawei stole intellectual property from T-Mobile, the U.S. subsidiary of Deutsche Telekom. We know that it deploys these same tactics in Europe and wherever it can get a foothold.
Given these dangers, governments and businesses around the world are increasingly asking: who do we trust carrying our most personal information and intellectual property? The primary choices are two world-class European vendors on one side, Ericsson and Nokia, and two CCP-controlled companies on the other, Huawei and ZTE. After this year, there should be no doubt about the answer. From concealing an outbreak that became a pandemic, to eviscerating Hong Kong's freedoms, to persisting with a ruthless campaign of repression in Xinjiang, the CCP's human rights abuses are impossible to ignore. This behavior is made possible by an Orwellian big brother surveillance state that tracks billions of people worldwide and it extends the great one-way China firewall, where all the data comes in for the CCP's use but none goes out, and reciprocally, all the propaganda goes out but the truth does not come in.
UK Foreign Secretary Raab recently remarked that it isn't just the devastation of COVID-19 that takes the shine off of China, but also the fact that the CCP doesn't live up to the deals it makes. The crackdown on Hong Kong is a case in point. As Foreign Secretary Raab said: "It comes down to an issue of trust." And he said, "Why would anyone trust China with other deals they might make?"
The transatlantic alliance has a responsibility to protect the integrity of our networks for nearly 1 billion citizens living under our security umbrella. And that's why the United States has teamed up with likeminded nations to develop the Clean Network, which is a comprehensive approach to address the long-term threats to data privacy, security, human rights, and trusted collaboration. Its 5G Clean Path initiative complements the work done by the EU member states developing the clean EU 5G Toolbox for designing, constructing, and administering 5G infrastructure.
The Prime Minister of Poland Morawiecki recently commented: "Poland believes the construction of our 5G Clean Path network is a prerequisite for strategic technological sovereignty. [And] that is why we are proud to be a 5G Clean Country." The Clean Network is rooted in internationally accepted digital trust standards and represents execution of a multi-year, enduring strategy built on a coalition of partners. The Clean Network encompasses the entire system by incorporating additional Clean Initiatives to safeguard mobile carriers, apps, cloud-based systems, and undersea cables – because a system is only as strong as its weakest link. The Clean Network has sparked a wave of countries and companies choosing clean vendors for their 5G networks. Already many EU nations have joined the Clean Network.
The 5G tide has turned towards clean, trusted vendors as more and more of these countries and companies are using clean providers to build 5G networks. Huawei deals are evaporating as everyone begins to realize it's an arm of the CCP surveillance state and a tool for human rights abuse. The Clean Network now includes over 30 countries around the world. Many are European, such as the Czech Republic, Norway, Poland, Sweden, Estonia, Romania, Denmark, Greece, Finland, Luxembourg, most recently Serbia and Kosovo, Albania, Latvia, France, the United Kingdom, and Slovenia.
Most countries' largest telecommunications companies have also joined the Clean Network, such as Telefonica, Telco Italia, Reliance in India, Telstra in Australia, SK and KT in Korea, and then all telcos in Japan, Singapore, Australia, U.S. and Canada have joined the Clean Network.
But the transatlantic alliance, too, is only as strong as its weakest link. Countries may be tempted to auction off 5G contracts to the lowest bidders, but this approach exposes all of us to undue risks. The transatlantic alliance and other partners must acknowledge the intersection between 5G providers and national security equities, including interoperability, information sharing, and reliance against coercive tactics. By building safe networks today, governments can ensure the integrity of their systems and prevent costly countermeasures down the road.
Many European nations have come a long way, transitioning – at great human and economic cost – from an authoritarian regime into a democratic state that we all enjoy today. They know firsthand how authoritarian regime uses data to exert leverage. We will stand firm to protect against this. Modern technology should expand people's opportunities, not expand a government's control over them.
President Reagan's "Tear Down This Wall" speech combined with Europe's Solidarity movement was a crucial catalyst in bringing down the Iron Curtain. And I really think this is emblematic of the unity and solidarity which will be required to never allow ourselves to be intimidated or undermined by China's Great Firewall. The Clean Network and the EU 5G toolbox provides strength in numbers for the transatlantic nations and our governments as well as the companies.
History has taught us, there is power and strength in unity and solidarity and together we can control our 5G destiny and ensure we lead our people down the clean path for a safe and a secure future.
Another issue that I'll be talking with Commissioner Thierry Breton later on today about is the PRC's campaign of environmental destruction. The PRC is the world's largest annual greenhouse gas emitter, the world's largest emitter of mercury, neurotoxins and major public health threat. The world's largest consumer of illegal wildlife. The world's largest consumer of illegal timber. One of the largest, if not the largest, emitter of marine plastics. And one of the world's worst perpetrators – the world's worst perpetrator when it comes to illegal, unreported, and unregulated fishing.
As Secretary of State Mike Pompeo has said, "Too much of the Chinese Communist Party's economy is built on willful disregard for air, land, and water quality. The Chinese people – and the world – deserve better." It also exports through these practices abroad through the environmental destruction of the One Belt One Road campaign, which compromises – with all these 600,000 [sic] coal plants in more than 62 countries.
So I look forward to discussing all of this and much more with Commissioner Breton today, and with many of the other leaders throughout my stay in Brussels and on this trip.
Question: Should U.S.-allied countries restrict sales of semiconductors and semiconductor equipment to China, following U.S. policy in this regard?
Under Secretary Krach: Yes. So, for example, the restrictions placed on Huawei, the allied nations have been great. And as a result, I think the implications are pretty clear that Huawei is running out of its chips for its 5G systems, their smartphones, even their servers for their cloud business and data center business. And it's hard to estimate how long they have chips, but it's literally within months. So I think the important thing is for the telecommunication companies and companies in general who utilize their equipment to take that into account.
Question: Do you plan to put SMIC on the Department of Commerce's Entity List? How do you respond to the argument that U.S. sanctions on Huawei are counterproductive because they are forcing China to boost its own technology and software?
Under Secretary Krach: So as far as the company SMIC goes, that's really a state-backed company. We know that they're involved with civilian-military fusion. And the thing to understand is that these semiconductors power that surveillance state which extends that great firewall, which is a tremendous threat to democracies around the world. So I think, first of all, it's up to the Commerce Department in this area, but here again I don't think this is going to change anything that the Chinese Government is doing in terms of their initiative to bring everything in-house. There's nothing we're going to do that's going to accelerate or decelerate them. They have their plans.
Question: Handelsblatt reported the German Government has agreed on requirements that would force operators and vendors to certify and authorize 5G components. Are you happy with this outcome from Berlin?
Under Secretary Krach: We've had some good discussions. We spent some time in Berlin. We agree on the North Star, and that is to really protect the 5G systems, not just in Germany, in Europe, the transatlantic alliance. So they're making – they're making great progress. And I think the German people realize the implications for that surveillance state. And the thing I talk about in Germany is German basic law, article 1 – German basic law is like the Constitution, and that article 1 is two words; it's "human dignity," and human dignity is sacrosanct. And by German basic law, that's the responsibilities of government authorities. So they totally understand that.
Question: Evidence was declassified in 2019, per a Wall Street Journal story, regarding Huawei's capacity to tap into lawful interception interfaces of the European networks they operate. Why didn't you make the evidence public? What does it consist of? And has this capacity been used? If so, where and when?
Under Secretary Krach: Yeah, this – I mean, this is a perfect example of things that the Chinese Communist Party do. And I've spent my entire career in the private sector. I was the vice president of General Motors and I spent 30 years in Silicon Valley. And I didn't realize when I came into government that the North Star for the federal government is national security. I mean, that's true for all our governments. And what I've learned is that you've got to fight every single day to preserve the democracies and the freedom we enjoy because it's against the natural order of things; it's against all the laws of physics. The natural state of the order is the bad king, the dictator, the emperor. And I think when you look at countries like the United States and like the European countries, if it wasn't for the things that we do, I think there's a lot of nations around the world that would not be enjoying the freedom that we have today.
Question: How receptive has Germany been toward U.S. warnings about Huawei during your recent talks? Are there any indications that Germany and Italy are moving closer to taking concrete action on this issue?
Under Secretary Krach: The German Government as well – I've spent a lot of time with German CEOs as well. They've been very receptive and they're coming out with an IT security act. So they're moving in all the right directions from everything that we can see. Our position is we want to be able to educate them; we want them to learn from our experiences and experiences of other countries. But at the end of the day, that decision is a German decision and we respect that.
In terms of the Clean Network, we would of course love Germany to join the Clean Network. And as a matter of fact, they're a leader in – if you think about it, I mean, as a businessman, they've always been a great leader in quality, reliability, data privacy, security. It's in their nature. And the Clean Network would be incomplete without them. I mean, I – so I'm optimistic.
Question: In your capacity as ombudsperson on the Privacy Shield, can you update us on the current talks between the European Union and the United States on a future data transfer accord, after the European Court of Justice struck down the Privacy Accord in July?
Under Secretary Krach: Yeah. Being the ombudsman for the data Privacy Shield, this was obviously something new to me coming into the government. And I will tell you that – how serious the United States takes that. In our three branches of government, there's no authority over me in our Executive Branch – I work with the Judicial Branch on that. I can say that there's only been one incident over all these years. We've run it to ground. Everybody was satisfied. It actually ended up to be much ado about nothing. In terms of the latest decision, we're in discussions about that and I think our position is this: that we want to make sure that it doesn't harm European businesses, it doesn't harm U.S. businesses. We want to make sure whatever new laws are going to be in place by Europe are reciprocal. A question I always ask is, well, I'm the ombudsman for the U.S.; where's the ombudsman for Europe?
And also, to make sure that it takes into account all – all nations. One of my questions originally on it when I first met with the European team when we had our annual meeting is: tell me about the EU-China data privacy shield? And I found out there wasn't one. And I asked this team of people and they were just – their answer was, well, China will be China. And I don't think that's good enough anymore.
So I think for the Europeans are – who are putting together that next proposal, I think you've got to look at it holistically.
Question: After Slovenia this summer, and others before it, which European Union countries are closest to signing a joint declaration with the U.S. on 5G security?
Under Secretary Krach: Well, there's a number of them. One of the things that our first stop was in Luxembourg, and what I found out over in Luxembourg is all three of their telcos have decided to go with trusted vendors. So in essence they just – they joined as well. I'll be going over to Albania and they – they're on the Clean Network. It's great. So I think there's a number of them that are right on the cusp. And in some cases, they're just now putting together their rules and their laws. But right now, of the 30 NATO countries, 20 are on the Clean Network.
But here again, my point I emphasize is this: is that we don't want to end up with a fractured NATO – two NATOs where you have countries that have secure, clean networks and ones that don't. Because it will restrict a lot of access to information. And here again, it's only as strong as its weakest link. It's like a pearl necklace. You're weak in one place, it can expose the others. And I had a great meeting yesterday over there with the NATO folks. They totally understand that. They understand the importance of having a clean path like the United States State Department does where any of our domestic facilities or international facilities like our embassies requires a clean path. So all the network – all the network traffic coming in cannot touch an untrusted vendor's equipment. And particularly when you're talking about security, this is – it's a must.
Question: How will the strategy to keep Huawei out of Europe's next-generation network work if Germany, Europe's biggest economy and most populous nation, allows Huawei to co-build its 5G network?
Under Secretary Krach: Well, here again, you're only as strong as your weakest link. And here again, I think we're seeing things moving in the right direction in Germany. And it's no secret that the Chinese threatened the Germans with this. They threatened their automotive business with this. And it's kind of similar to when Boris Johnson said, "I think we're going to reconsider letting Huawei in to 35 percent of our telecommunications system." Because immediately what you can see is Beijing threatened the British bank HSBC. You heard the Chinese ambassador to the UK say, "We're going to take away that $100 billion investment we made in that rail system in the north of England." And that's when Secretary Pompeo stood up and he said, "We stand with the UK. We stand with all our allies against that China bully." And I think that was highly symbolic.
And we really do – we really do look at their retaliation. It's an 800-pound elephant in the room, of China as a bully. And I think we've all had experiences with bullies in our lives, and if there's anything I've learned: when you confront a bully, they back down. And they really back down when you confront them and you have your friends by your side. And that's exactly what the United States intends to do. And that's also the purpose of the Clean Network, because there's strength in numbers. There's strength in solidarity and unity. And that's the power of the transatlantic alliance, NATO, the EU. And I think the EU is really important because it provides cover for all these European nations where China picks the – they're – picks the gazelle from the herd, and what they want to do is they want to drive a wedge between countries, they want to drive a wedge right between the Atlantic.
So this is not an issue of U.S. superpower versus China superpower. This is an issue of freedom versus authoritarianism.
Question: How much of the critical U.S. semiconductors did Huawei stockpile, to your knowledge? What's your current assessment of their ability to create a fully Chinese alternative?
Under Secretary Krach: Not enough. I can tell you that. You're already seeing some of the shortage of supplies out there. The interesting thing is that last February, Huawei announced they had 90 5G contracts, and what we've seen is we've seen those deals evaporate. The most we can count outside of China is six. So they have totally lost the momentum. The tide has totally turned. And I think this is something that countries and companies should keep in mind. There's really no future with Huawei.
Question: What should countries do with their preexisting equipment from Huawei? Or is the concern only for the 5G system? In other words, can they use other elements of Huawei equipment?
Under Secretary Krach: Our focus has really been on 5G, but also understand that whether it's 4G or whether they're smartphones, it's a risk. And the reason is simple, and I didn't realize this until I was in government. And I had my intellectual property stolen in Silicon Valley as I built four companies, from the Chinese Communist Party – is that there's a law in China – it's called their national intelligence act – and it says this. It says any Chinese company, state-owned or otherwise, and any Chinese citizen has to turn over any information, proprietary technology, intellectual property, data, and also genetics, upon request to the Chinese Communist Party, the People's Liberation Army, the PRC Government, and if they don't, then they have to suffer the consequences.
Question: Do you have any closing remarks you'd like to make?
Under Secretary Krach: I think just the closing remarks to everybody would be thanks so much for your time. And in this issue with regard to China's surveillance state, and in this fight for freedom versus authoritarianism – because we look at what China has done, and they've really stepped up their aggression since the pandemic – and you can see that at the Indian borders. You can see it – the Japanese islands, north of Taiwan. You can see it – their invasion of Hong Kong. And you're seeing it all over the world. It represents a real and urgent threat to democracy. And really, a key tool that we have in the free world is transparency. And what the media – the professionals in the media like the ones on the phone right now are such a necessary strategic part of solving this issue, and shining a light on these practices that for so many years they concealed. And if you look at China's economic statecraft or on every dimension, a key part of their strategy is deception.
Well, I think now the genie is out of that bottle and I think people around the world have woken up and see the truth about China's – we call it the three-pronged strategy of concealment, co-option, and coercion. And the citizens don't like it. And it's really given the political will to government leaders, corporate CEOs around the world to stand up to that China bully, and that is thanks to the media. So I – this is just a chance for me to thank everyone.