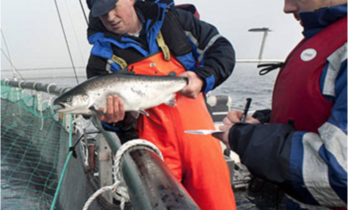 Norway Royal Salmon and Aker obtained approval to increase their production volume of aquaculture operations in the Arctic after filing a complaint against the original allocation decision.
According to both firms, their new ocean aquaculture concept, called Arctic Offshore Farming, facilitates sustainable growth in areas that the aquaculture technology thus far has not been able to exploit.
This initiative makes it possible to achieve unique collaboration between traditional aquaculture habilities (Norway Royal Salmon), the expertise in offshore facility construction (Aker Solutions) and the environmentally certified fishery operations in extreme water (Aker Marine).
Now Norway's Directorate of Fisheries will process applications limited to 5,990 tonnes in maximum allowed biomass compared to 2,995 tonnes in a decision from July 7 2017, Reuters informed.
The new decision gives the companies sufficient volume to test two units instead of one.
Initially, Norway Royal Salmon and Aker had applied for permission to farm 11,700 tonnes of fish, and the two can still appeal the regulator's decision to Norway's fisheries minister.
The project involves the development and testing of a brand new type of aquaculture farm with greater capacity to withstand harsh weather conditions. NRS/Aker applied for 15 development permits in order to realise the concept and test the facility in Troms/Finnmark.
These licenses would provide the economic foundation for carrying out significant investments in a future-oriented industry.
If a development project is successful, measured against a set of criteria, it could be converted to a permanent productions licence at a cost of NOK 10 million (USD 1.2 million) per licence.
(Fis,N.Sethu)