Norway exported 120,000 tonnes of salmon during October. Converted into whole fish, the volume was 138,674 tonnes which is the highest export volume yet for a single month.
Low prices meant the value at NOK 6.5 billion (£527 million) fell by NOK 124 million (£10.1m), down two per cent compared with October last year. The export price per kg was NOK 48.57 (£3.96), six per cent lower than the same month last year.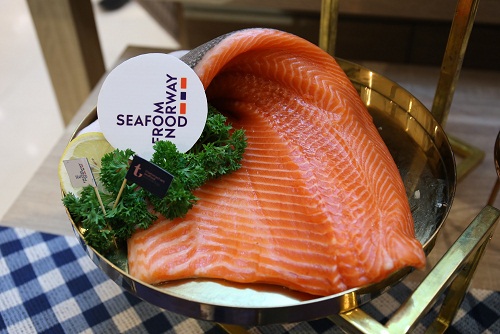 Norwegian Seafood Council analyst Paul T. Aandahl said the Asian and Israeli markets suffered the most from reduced volumes, the latter affected by increased competition from Chile.
Sales were also affected by continuing reduced demand from the restaurant sector. So far this year, Norway has exported 920,000 tonnes of salmon worth NOK 58.3 billion (£4.75 billion), the same volume as a year ago, while the value fell by NOK 522 million (£42.6 million) or just under one per cent.
Farmed trout exports rose again last month to 7,100 tonnes, up by six per cent in volume. The value at NOK 371 million (£30 million) is running at the same level. Belarus, Japan and Ukraine remain the largest markets for Norwegian trout.
So far this year, 60,000 tonnes of trout worth NOK 3.2 billion (£260 million) were sold abroad. This represents an increase in volume of 27 per cent, while the value increased by NOK 275 million (£22.43 million), or nine per cent.
The Seafood Council said that despite a challenging month overall exports remain at a high level.
The total, including white fish such as cod and haddock and pelagics like herring and mackerel totalled NOK 10.4 billion (£852 million), down five per cent on a year ago. Nevertheless, the figure is the third highest value yet for a single month.