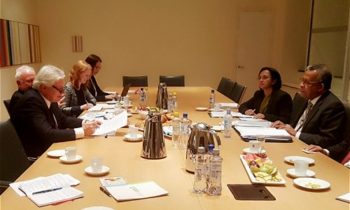 Sri Lanka and Norway have held Foreign Office Consultations in Oslo on 11 December 2017.
Secretary to the Ministry of Foreign Affairs Mr. Prasad Kariyawasam met with the Secretary General of the Norwegian Foreign Ministry, Mr. Wegger Strømmen.
They reviewed bilateral relations and ongoing projects in Sri Lanka assisted by Norway.
The two Secretaries also discussed ways and means of broadening and deepening the relations between the two countries.
"It has been good discussions on bilateral and global issues, with focus on international cooperation to secure sustainable use of oceans," the Norwegian Embassy in Colombo said.
The Foreign Secretary also visited the Norwegian Ministry of Foreign Affairs and Ministry of Trade, Industries and Fisheries.
(N.Sethu)