Many of us have come to see our homes as sanctuaries in 2020, but one property on the market is more secluded than most.
A picturesque private island in Norway is up for sale, positioned amid an idyllic fjord in the west of the Scandinavian country.
Ulvsnes Island, nestled in the Sorfjorden fjord, comes with a 20,000-square-foot home, as well as 29 other smaller buildings, such as a boathouse and barns.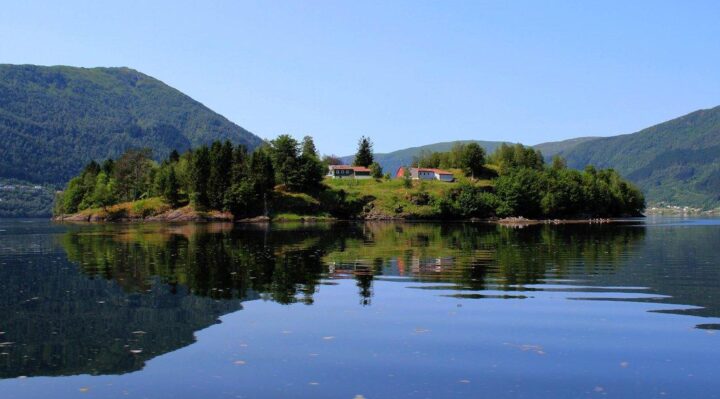 The island also includes 23 acres of woods, pathways and meadows, as well as a private wharf, football pitch, hiking trails and several bathing spots.
Such variety doesn't come cheap, with the island on the market for Dh11.95 million ($3.25 million).
Ulvsnes can be reached by boat from Vaksdal, a village on the mainland which is about a 45-minute drive from the city of Bergen.
The island was once home to a boarding school for misbehaving boys, which opened in 1881, before being turned into a low-security prison in 1982.
While housing the boarding school, it became known by the nickname Devil's Island, although it now looks rather paradisicial. It was privately sold in recent years, with the owner turning it into a functioning farm, meaning there are also outhouses, workshops and garages across the island.
"The island has recently had horses, sheep, alpacas, pigs and poultry as well as several greenhouses for organic food production," according to luxury goods seller JamesEdition, which is listing Ulvsnes.
"Ulvsnes Island has spectacular 360 degrees views of the fjords and mountains can be enjoyed from all around the island – there aren't many views that can rival this," the listing adds.
The island is marketed as a potential investment for hotel resorts, but could also be snapped up by anyone just wishing to get away from it all.