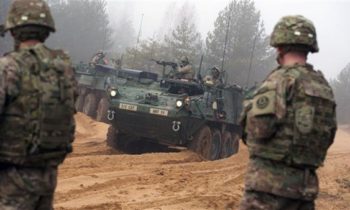 The Saber Strike 2016 international military exercises have begun in Estonia. Approximately 10,000 soldiers will participate, of which 1,500 are from the US. The remaining soldiers come from Estonia, Denmark, Great Britain, Latvia, Lithuania, Poland, Luxembourg, Norway, France, Slovenia, Finland and Germany. The exercises are being held under the leadership of the US Army in Europe.
The Saber Strike 2016 consists of several stages. The tactical stages will occur at the central polygon of the Estonian Defense Forces in Tapa, at the Ämari airbase near Tallinn and at sites in Lithuania and Latvia. The exercises will end in Tapa on the 21st of June.
According to the Estonian Defense Forces Headquarters, the US Air Force will deliver two HH-60 helicopters to the Ämari airbase on Friday. Five AH-64 Apache helicopters, HH-60 helicopters, C-130 Hercules transport planes and Chinook transport helicopters will also be delivered to the base next week.
In addition, the American A-10 attack aircraft, which is based in Latvia, as well as the F-16 fighters of the Polish Air Force will arrive in Estonia. Two batteries of the M142 HIMARS American multiple rocket launcher, that belongs to the National Guard of Tennessee, will also be transported to Estonia to take part in the exercises. This will be the first time that the missile system will be in Estonia.
The Dragoon Ride II, which is also a part of the exercises, involved 1,500 troops of the second cavalry, which is the mechanized infantry regiment, of the US Army relocating 400 units of equipment to a destination 2,400 kilometers away. These units include the Stryker combat vehicles, howitzers and combat support machines. The troops and equipment traveled along two routes from Germany to Estonia with stops in the Czech Republic, Poland, Lithuania and Latvia.
These exercises are being implemented in order to improve cooperation between NATO countries, to determine the readiness and ability of military units to carry out conventional operations, and to strengthen the cooperation between the defense, state and municipal agencies with regard to support being provided by the host country during the operation.
It was previously reported that one of the largest international military exercises, Anakonda-2016, is being held in Poland from the 7th to the 17th of June. Ukraine is also taking part in this exercise.