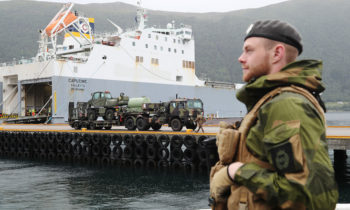 Vehicles and equipment for NATO's largest military exercise in recent years have arrived from Italy to Norway this week. This is the first batch of equipment arriving for the exercise, which will take place in late October and early November.
The equipment belongs to the Italian armoured brigade Ariete. The Italian Armed Forces will participate in Trident Juncture 2018 with some 1,200 troops, making Italy one of the main contributors to the exercise.
Bringing together more than 40,000 troops and equipment from more than 30 countries for the Trident Juncture exercise will be an enormous logistical undertaking, led by NATO's Joint Force Command Naples. Some 130 logisticians are working on determining the best air, land and sea routes for the deployments, and facilitating the deployments.