Foreign Ministries of Kazakhstan and Norway held regular political consultations via videoconferencing.
Kazakh Foreign Ministry says the parties discussed political, trade, and economic cooperation issues within both bilateral and multilateral formats.Kazakhstan's Deputy Foreign Minister, Margulan Baimukhan, and the State Secretary of the Norwegian Foreign Ministry, Audun Halvorsen, co-chaired the meeting.
A wide range of interaction issues, including expanding the bilateral legal framework and the intensification of inter-parliamentary cooperation, were discussed. The parties exchanged views on countering the COVID-19 pandemic and measures taken by the two governments in this respect.
Touching upon trade, economic, and investment perspectives, the parties noted the priority of cooperation in transport, logistics, geological research, and energy. The consultations also discussed Kazakh-Norwegian interaction through international organizations, including the UN and OSCE.On the eve of the meeting, the Kazakh Deputy Foreign Minister Margulan Bamukhan spoke to the Norwegian media and hailed "Norway's efforts to strengthen multilateralism and a climate of trust ahead of the country's UN Security Council membership and beyond.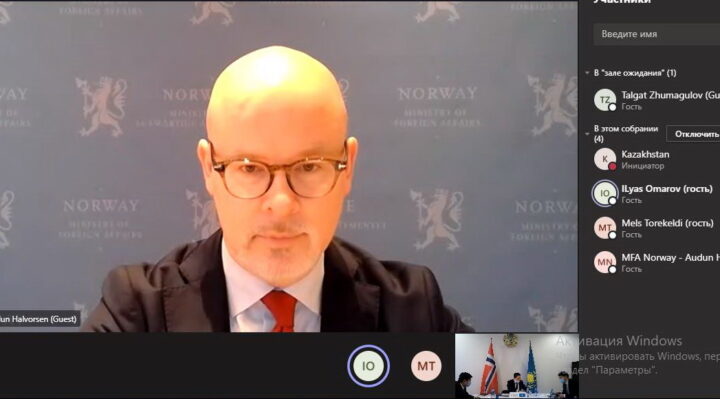 "He dwelled upon trade relations issues, stressing that "our countries need to improve transport logistics."
"Most of Europe is already connected by regular railway routes to China via Kazakhstan. These routes are 3-4 times faster than maritime services. Last summer, a pilot container was delivered from Chinese Hefei to Norwegian Narvik in just 15 days. We should support such projects," he said.
He added that the two governments need to work on mutual protection of investments, strengthening science and technology cooperation. He also expects the Norwegian business to intensify in Kazakhstan's oil and gas and renewable energy projects soon.
"One of President Kassym-Jomart Tokayev's priorities is the re-equipment and modernization of the country's agriculture. In this respect, the Norwegian expertise and investments are of great interest to Kazakhstan", Baimukhan said.