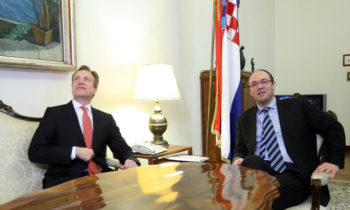 Norwegian Foreign Minister Borge Brende said in Zagreb on Monday that Croatia was a country of stability in Southeast Europe, exporting stability to its neighbours.
Brende had arrived for a day-long visit during which he met with Croatian Foreign and European Affairs Minister Davor Ivo Stier.
Croatia has an important role in NATO and the EU regarding Southeast Europe, where it is a country of stability which exports stability to its neighbours, and we appreciate that, Brende said.
We discussed the situation in Southeast Europe as two NATO members, Stier said, adding that Zagreb and Oslo shared the view that NATO must remain involved in the region.
The two ministers said that Croatia and Norway were friendly countries with excellent relations which they wanted to strengthen further, especially in the field of economic cooperation.
This month we mark the 25th anniversary since the establishment of diplomatic relations between Croatia and Norway, and in the meantime we have developed excellent relations. Today we are allies within NATO and we also share membership of the European Economic Area (EEA), Stier said.
The good economic cooperation has also been developed through the EEA and a bilateral financial instrument of Norwegian grants, the Croatian minister said. He added that negotiations on a new financial perspective, which will include 103 million euros, would start on March 21.
Croatia has identified priorities for the negotiations on aquaculture, maritime shipbuilding, environmental protection, energy, development aid and migrations. These are the topics we will discuss with the Norwegian side, Stier said.
Brende said that the negotiations would focus on areas of common interest. He noted that there was a lot of room for further strengthening economic cooperation and for more investment.
Norway is one of the few European countries with which Croatia has a surplus in trade, and we appreciate Norwegian investments in Croatia, Stier said.
Both ministers welcomed the increase in Norwegian tourist arrivals in Croatia. Last year 300,000 Norwegians visited Croatia.
(eblnews)