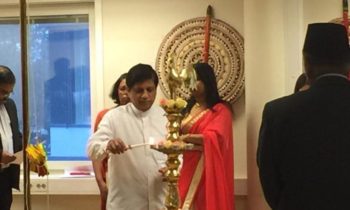 The Embassy of Sri Lanka to Norway celebrated the 69th Anniversary of Independence on 4th February 2017 at the embassy with the participation of over 150 members of the Sri Lankan community.
Ambassador Manjusri Jayantha Palipane, addressing the gathering highlighted the importance of appreciating the diversity that we share as individuals belonging to different ethnicities, religions and ways of life, and to look to the future as one nation. He further noted that the Government under the leadership of President Maithripala Sirisena and Prime Minister Ranil Wickremesinghe, is committed to achieve lasting peace, national reconciliation, sustainable development and eradication of poverty, which have been identified as key priorities by the Government.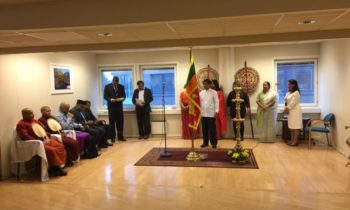 The programme commenced with the hoisting of the National Flag, followed by the singing of the National Anthem in Sinhala and Tamil. Two minutes silence was observed to honour those who participated in the independence struggle and sacrificed their lives safeguarding the sovereignty and territorial integrity of Sri Lanka.
Following the lighting of the traditional oil lamp, multi-religious observances were conducted. Thero invoked blessings according to the Buddhist religious tradition , Hindu priest conducted the Hindu religious observances , Muslim imam conducted the Islamic religious observances and Christian father conducted the Christian religious observances.
The 69th Independence Day message of President Maithripala Sirisena was read in Tamil and Sinhala.
The programme was hosted by embassy staff, Management Assistant in Tamil and English.
Following the conclusion of the ceremonial segment of the programme, the Embassy of Sri Lanka to Norway hosted the members of the community to a traditional Sri Lankan food.
(N.Sethu)