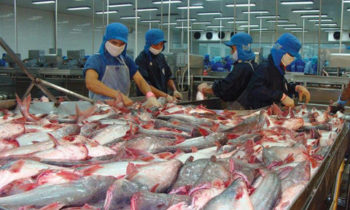 The Ministry of Agriculture and Rural Development of  Viet Nam and the Norwegian Embassy organised a business seminar on sustainable aquaculture in southern Can Tho City on Saturday.
Co-chaired by Tran Dinh Luan, deputy general director of the Fisheries Department, and Ole Henaes, the commercial counsellor at the embassy in Ha Noi, the event brought together executives from 16 Norwegian aquaculture companies and local businesses and officials from the directorate and provincial departments of aquaculture.
The workshop sought to introduce Norwegian technologies in the aquaculture value chain and connect Vietnamese and Norwegian businesses.
It discussed new techniques and technologies in fisheries and aquaculture processing from renowned Norwegian companies like Artec Aqua, CFlow, Steinsvik, Normex and Pharmaq, including the use of electrolysis and ultrasound in the treatment of seawater, efficient systems for handling and transport of fish, automatic feeding and monitoring systems for fish farms, corrosion-free surveillance cameras for ships, wastewater treatment and organic matter removal systems, and vaccines for fish.
Assoc Prof Dr. Nguyen Huu Dung, chairman of the Vietnam Association of Seafood Exporters and Producers said with a coastline of over 3,260 kilometres, more than 3,000 islands and islets and 2,860 rivers and estuaries, Viet Nam was geographically endowed with ideal conditions for fisheries.
The country is the third largest fisheries producer with an output of 6.33 million tons last year. It is the leading producer of pangasius and the third largest producer of shrimp.
Yet, Dung said, the Vietnamese aquaculture sector has also faced major challenges in recent years.
Unsustainable development
They include lack of planning leading to unsustainable development, poor breeding fish quality and aquaculture infrastructure, inefficient extension services, high disease prevalence and lack of environmental monitoring and administrative and management capacity, he said.
The country is in urgent need of building a partnership with an aquaculture superpower like Norway to develop a more sustainable fisheries sector that can produce higher quality seafood products for local and global markets, he said.
Henaes said many Norwegain aquaculture companies consider Viet Nam the most promising market in Southeast Asia, thanks to a number of advantages such as competitive labour costs, skilled workers, open economic policy, favourable geographical conditions and a mutual interest in the blue economy.
The main objective is for the Norwegian businesses to increase their knowledge of the Vietnamese seafood industry, market their technologies and update their Vietnamese partners on new technological innovations to improve their efficiency, he said.
Luan thanked the delegates for their input and assured that the ministry would help identify opportunities for Norwegian investors, create the best possible conditions for them and facilitate long-term relationships.
The Department of Fisheries would support Norwegian aquaculture businesses as an active dialogue partner and advise them on local political and economic conditions and issues like corporate social responsibility, barriers to business operations and others.
It would also help them contact the Government, he said.
It would co-operate closely with Norwegian investment funds like Holbergfondene and Nor-fishing Foundation Fund to allocate money needed for projects and ventures, he said.— VNS