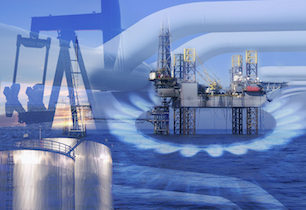 Norway's Statoil has found more gas offshore Tanzania at the Giligiliani-1 well, increasing its total for an eventual investment decision on a liquefaction plant with Britain's BG Group, which operates neighbouring exploration blocks, it said on Tuesday. Statoil announced yesterday that it had found another 1.2 trillion cubic feet of gas in its block, taking its total volume in-place to 21 trillion cubic feet, or about 3.8 billion barrels of oil equivalents.Similarly, BG has also found about 15 trillion cubic feet of gross resources in nearby blocks.
This discovery has proven that the gas play extends into the western part of block 2, which opens additional prospects, Nick Maden, Senior Vice President, Statoil's exploration activities in the Western hemisphere said in the statement.
Our success rate in Tanzania has been high and opening up a new area will be key to continuing our successful multi-well programme, he said.
The Giligiliani-1 discovery is the venture's seventh discovery in Block 2 offshore Tanzania, preceded by the five high-impact gas discoveries at Zafarani-1, Lavani-1, Tangawizi-1, Mronge-1, Piri-1 and Lavani-2.
Statoil said the Giligiliani-1 discovery is located along the western side of Block 2 at a 2500 meter water depth and that the new gas discovery was made in Upper Cretaceous sandstones.
Statoil and its partner ExxonMobil have released few details on the project, but one of BG's partners earlier said the volumes in place would support two 5 million tonne per annum liquefaction units, also known as LNG (liquefied natural gas) trains, with the final investment decision coming in 2016 and production beginning around 2020.
Statoil said that before an investment decision was made, it needed to ensure that it had sufficient volumes, managed the technological and subsurface risk and ensured that all legal and commercial requirements were in place for the investment.
Analysts have said they expect the project to go ahead with the partners focusing on rapidly expanding LNG markets in places such as South Korea and Japan.
Statoil operates the licence on Block 2 on behalf of Tanzania Petroleum Development Corporation (TPDC) and has a 65 per cent working interest. ExxonMobil Exploration and Production Tanzania Limited hold the remaining 35 per cent.
Statoil has been in Tanzania since 2007, when it was awarded the operatorship for Block 2.
However, mid this year, Statoil and the government entered into a dispute over profit share after the first contract between the two
parties was reviewed.
TPDC managing director, Yona Kilagane said in the original oil exploration contract, profits were to be shared equally (50/50) but changes were made in favour of the foreign company.
He said the need to change the contract came after the exploration firm discovered natural gas instead of oil as per the agreements reached in the first signed Product Sharing Agreement (PSA) in 2007.
He noted that the PSA was signed with accordance to all the country laws.
He said the original PSA had a provision stating that, in case natural gas is discovered instead of oil, parties will renegotiate basis for developing the found resources.
He said Statoil claimed ownership of 95 per cent of the profit shares leaving a mere 5 per cent for the government.
Nonetheless, Kilagane said the two parties have settled their differences and that it was mutually agreed that Statoil will get the lion's share, 70 per cent of the profits with the government retaining 30 pct cent exclusive of corporate tax (30 pct, royalty (5 pct), TPDC participating interest (10 pct) and services levy (0.3 pct).
Early August this year, Mozambique's state newspaper reported that Statoil pulled out at its explorations in Ruvuma basin, north of Mozambique while around the same time, TPDC confirmed that the Norwegian oil firm is actively continuing with exploration in the deep sea's Block 2 offshore Tanzania.
(the guardian)