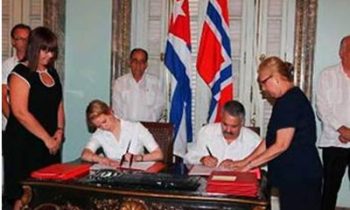 The Norwegian Agency for Development Cooperation (NORAD), and the Cuban ministries of Foreign Trade and Foreign Investment (MINCEX), and the Ministry of Energy and Mines signed new agreements for bilateral cooperation in the oil sector, confirming the negotiations between the two countries started in 2011. The signed documents are part of the Oil for Development program of NORAD. With this program Norway holds meetings with Cuban authorities to share experiences on staff training, development of techniques and knowledge sharing about fuel.
The program was created in 2005 in order to train and promote the responsible management of the "black gold" in several regions of the world.
Cuban entrepreneurs as well as the Norwegian ambassador, John Petter Opdahl, said that the cooperation results are very positive. In Cuba there have been several significant evidence indicating the existence of oil and natural gas reserves.
Cuba holds oil business agreements with Canada, Venezuela, Angola, Russia, China, Vietnam; training alone with Mexico, Trinidad and Tobago, Brazil, Argentina, Norway.
(OnCuba)