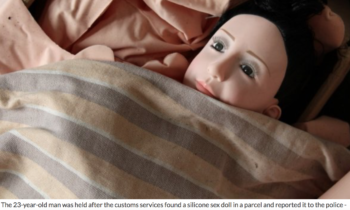 In a first of its kind in the country, a Norwegian man has received a six-month jail term for purchasing a child-like sex doll online.
Judges announcing the verdict said that the "doll portrayed a minor child in a particularly shocking way" and added that the sentencing was justified in order to act as a "deterrent", The Local reported.
The court in the south-eastern town of Fredrikstad also said that the seized sex toy "contributes rather to trivialise the sexualisation of children, and collective prevention considerations argue for a strict judicial response that may act as a deterrent for such a market".
"Even if we cannot exclude the fact that the doll can act to some degree as a substitute for aggression, it is difficult to conceive that privacy interests can advocate for this product," the verdict stated as reported by AFP.
The 23-year-old man was held after the customs services found a silicone sex doll in a parcel and reported it to the police. It was said that the toy resembled a girl between 9 and 12 years of age and was priced at around 10,000 Norwegian Krones (more than $1,200, £910).
During a raid at the man's home as part of the investigation, around 1,600 photos and 26 videos of child pornography on his computer were also discovered.
The sentence was handed down to the man for buying the sex doll, as well as for two counts of corruption of minors, who were younger than 16 years old. In 2014, he had made a video of a six-year-old girl under her skirt and had also sent sexual messages to a young girl via Snapchat.
According to reports, the National Criminal Investigation Service (Kripos) believes that people who order child-like sex dolls are more or less sexually attracted to children. "Moreover, the dolls are very realistic and it is possible that sexual intercourse with the dolls can break down barriers to commit violence against children."
(ibtimes)