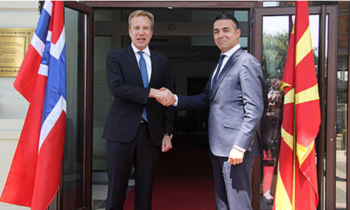 Norway supports Macedonia's accession to NATO and EU and is ready to assist in the process, Norwegian Foreign Minister Borge Brende said after Friday's meeting in Skopje with the Macedonian Foreign Minister Nikola Dimitrov.
Brende said that Norway has a strong partnership with Macedonia and has long historical ties.
We support government's aspirations for membership in Euro-Atlantic organisations and we are focused on developing inclusion in Macedonia. I hope that there will be efficient cooperation in the parliament. What can one learn from Norway's history is that 100 years ago we were one of the poorest countries and now we are one of the developed which was enabled by inclusion and democracy, Brende said at joint press conference with Dimitrov.
Dimitrov said that although this was their first meeting, it was cordial and open.
This is first visit of Norwegian Foreign Minister in over six years. We talked about the relations between the two countries, which are close and friendly. Next year, we the countries will celebrate 25 years of diplomatic relations and has the potential to develop in many areas, said Dimitrov.
He told that he presented to Brende priorities of the new government, NATO and EU integration, the area of good neighbourly relations, in regard to sphere of strong institutions, rule of law and free media.
Norway continues its support to our road to NATO as previously. Especially at this moment for the region, support for invitation to join NATO will have a very calming and beneficial effect for Macedonia, the Balkans and the Alliance, Dimitrov said.
Asked whether he plans to visit other neighbouring countries following Bulgaria's visit, Dimitrov said he wants Macedonia to have very close and friendly relations with all.
– Today Brende, who was kind and invited us on the Norwegian plane we are to head together in Belgrade at the inauguration of President Vucic. We had election cycles in Albania and Kosovo and we already have communication very soon we are to visit these countries. Any success of a country in the Balkans is a success for the entire region; we will either succeed together or go down. With such a message we will visit all countries, Dimitrov said.
In regard to journalist question what is included in the agreement on good neighbourly relations with Bulgaria, Dimitrov said when negotiating through publicity and public statements the outcome is worse, while the result is better when negotiations are conducted behind closed doors, it will be assessed when the public should be fully involved.
I can say that the basis of this agreement is the declaration signed by the prime ministers of both countries in 1999. The Macedonian language is included in the declaration and the agreement will not be changed from that declaration, Dimitrov.
He underlined that if Macedonia has a European democracy and courts, which are prerequisites for economic prosperity and good neighbourly relations with its neighbors, it will probably become more attractive for EU members and that in some way we will be more interesting then, when our membership will become less important.
Brende asked whether the Kingdom of Norway is considering re-opening an embassy in Macedonia, he answered that they are reviewing all possibilities for intensifying the partnership with Macedonia.
Brende is to meet Friday with President Gjorge Ivanov and PM Zoran Zaev.
(Macedonian Information Agency)