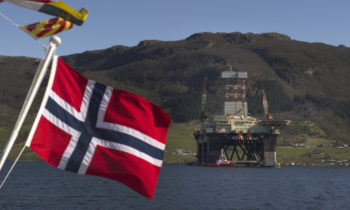 While the US debates the controversial gun issue, Norwegians are calling for more guns, but this time they want them to be carried on the trains and for a very good reason. Believe it or not, the demand has been made by the Norwegian Food Safety Authority. They want the weapons to be available to deal with any injured animals found on the tracks, so that they can then be put out of their misery in a humane manner. The agency says that animals have suffered for too long after collisions with trains and has accused rail companies of violating the Animal Welfare Act.Speaking of the Nordland Line, Asle-Håvard Miklegard, a senior adviser, told the local NRK news agency that the way they see it, the animal welfare law is repeatedly violated.
The Nordland line runs 453 miles (728 kilometers) between Trondheim and Bodø in northern Norway. According to official statistics, around 2,316 deer were hit by trains on the line between Steinkjer and Bodø during the period 2001-2011.
Miklegard said that the situation is serious and requires measures to remedy the problems, adding, "Animals are left for hours with a broken back, fractured bones and severe pain before being killed."
"With the present system, both herders and hunters can often be far away from the location when they are called. In an ideal world the animals would be killed immediately."
Requests are still outstanding for reindeer fences along the railway lines, apparently, which would stop the problem.
However, it seems unlikely that the guns will be deployed on board the trains, with Åge-Christoffer Lundebyveien of the national rail operator NSB stating that what was a common practice before, has since been discontinued.
"Weapons regulations are strict in Norway, and should be strict. There were fewer and fewer of our employees who felt it was right to leave the train in unknown terrain, only to make a killing, and often in the dark," Lundebyveien explained.
However, NRK has published a series of very disturbing photos of the dead animals to emphasize the point, which can be viewed from the links below, if you have a strong stomach.
(Norwegian sources: NRK 1 , NRK 2)