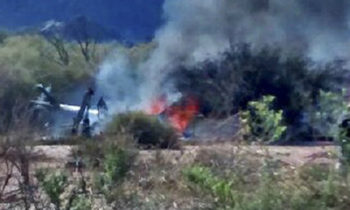 Several people have been found dead after a helicopter crashed west of the Norwegian city of Bergen with 13 on board, local media report.
There were initial reports of people in the sea, but a rescue official told broadcaster NRK that there were no signs of any survivors.
The helicopter was "totally destroyed". Photos from the scene show thick smoke coming from an area of rocky islets.
It was flying from the Gullfaks oil field to Bergen.
The western city is a centre for the North Sea oil and gas industry.
The helicopter, a Eurocopter 225, came down near the small island of Turoy, just west of the village of Solsvik.
Eyewitnesses reported seeing the helicopter's rotary blade come loose and sheer off in a different direction.
Some wreckage was found on the island, and parts of the hull are in the sea, local media said.
All passengers on the helicopter were employees of the oil company Statoil, reports say.
Service company CHC Helicopter confirmed that there had been "an incident involving one of our aircraft in the Norwegian sector".
Statoil has temporarily grounded all helicopters of the same type.