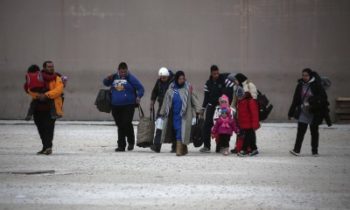 According to national broadcaster NOS, around 2,000 people joined the protest in a town of 27,000. Two police officers were among those hurt late on Wednesday when demonstrators began throwing stones, bottles and firecrackers to protest against a planned center for 1,500 migrants in the small Dutch village of Geldermalsen.
In a press conference following the incident, Geldermalsen Mayor Miranda de Vries announced that the municipality would table the discussion about the migrant center until January. Warning shots When it looked as though the police lines might be overrun, armed officers fired warning shots over the heads of the crowd and used megaphones to order them to leave the town centre, where there was considerable damage to shops and business premises. Thousands of refugees have entered the Netherlands this year as part of the massive influx of people arriving in Europe.
The coast guard says a large search-and-rescue operation with the European Frontex border agency was underway late Wednesday, searching for other survivors or victims. The two dead were identified as a man and a young girl. Greek and European border authorities have launched a search and rescue operation in the eastern Aegean Sea after reports that a boat carrying dozens of migrants sank off the island of Lesbos leaving two dead.
Boats from the European Frontex border agency were assisting. State Secretary for Security and Justice Klaas Dijkhoff said on Dutch TV, "Finding shelter for asylum seekers poses hard questions but there is a limit when it comes to expressing your opinion", the BBC reported.
Lesbos is the main destination for migrants seeking a better life in Europe who cross over from nearby Turkey in flimsy boats provided by Turkish smuggling gangs. Sylvi Listhaug of the right-wing Progress Party – the junior partner in the ruling right-leaning coalition – on Wednesday became new minister for immigration and integration.