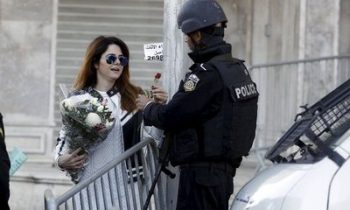 LAST week, the Tunisian National Dialogue Quartet — a motley civil society coalition of labour, industry, human rights activists and lawyers — received the Nobel peace prize in Oslo. The five-member Norwegian Nobel committee praised the quartet's "decisive contribution to the building of a pluralistic democracy", while African Union chairwoman Nkosazana Dlamini-Zuma had noted previously that "Tunisia has become a beacon of hope for peace in Africa".The coalition helped their country avert civil war in 2013 by pushing political parties to accept a government of technocrats to organise democratic elections, negotiating a secular constitution that protected the rights of women, and coaxing the Islamist Ennahda party to surrender power. It was appropriate that Tunisia — the cradle of the "Afro-Arab Spring" — was awarded this prize, which four South Africans — Albert Luthuli, Desmond Tutu, Nelson Mandela and FW de Klerk — have won.
When an unemployed 26-year-old street vendor, Mohamed Bouazizi, immolated himself in December 2010 in a protest against government repression, his martyrdom triggered a political revolution that toppled mummified Pharaohs in Tunisia, Egypt and Libya.
However, following the "Jasmine Revolution" of 2011, the political situation in Tunisia became bleak amid political assassinations, street protests and a weak military overwhelmed by local and regionally fuelled Islamic insurgencies.
The moving force behind the Tunisian quartet in August 2013 was Houcine Abbassi, head of the Tunisian General Labour Union. Many believed that he deserved the most credit for the democratic transition, and some felt he alone should have won the Nobel prize.
The veteran trade unionist was tenacious in convincing his historical foe, Ennahda, to stand aside and allow new elections. He employed his formidable deal-making skills as a labour negotiator and deployed his union's superior economic clout (with 750,000 members) to stitch together complex political deals.
The quartet's strategy was to use its popular legitimacy to draw a road map signed by 20 parties, establish an independent electoral commission and force amendments in the draft constitution during a three-month national dialogue.
Rather like the South African peace process, Tunisia's dialogue was a home-grown one that crafted creative local solutions rather than relying on external mediators.
One of the most important elements in the Tunisian success was the political maturity of Ennahda, which became the first Islamic party to give up power voluntarily.
If, like Egypt's Muslim Brotherhood, Ennahda had decided to dig in its heels and insist on its popular mandate from elections in October 2011, the outcome in Tunisia would doubtless have been very different.
Unlike Egypt's military junta, Tunisia's military brass hats stayed in their barracks, and Ennahda lost power through ballots rather than bullets, handing over to the secularist Nidaa Tounes coalition following last year's election.
Despite the optimism that has greeted Tunisia's Nobel triumph, dark clouds loom on the horizon. Two terrorist attacks this year killed 21 tourists at the National Bardo Museum in Tunis in March, while 38 tourists were gunned down at a resort in Sousse in June. The largest group of foreigners joining the Islamic State in Syria and Iraq are Tunisians.
Amid internal wrangling and splits, the country's political system remains rife with cronyism and corruption. Some have even complained that the quartet's peace deal represented an "elite pact" that shared the spoils of power among secularists and Islamist political players, but marginalised the masses, who continue to bear the brunt of 15% unemployment.
Regional tensions remain between the poor south and wealthier north. Tunisia itself is entrapped in a rough neighbourhood between anarchic Libya and turbulent Algeria. The government in Tunis has been accused of clamping down on genuine dissent by passing antiterrorism legislation and closing 80 mosques.
Many members of the ancien régime of the ossified dictatorship of Ben Ali are now back in power, obstructing efforts to seek truth and reconciliation and instead pushing dubious political amnesties.
The clear lesson from Tunisia, however, remains that supporting civil society efforts can be a cost-effective way of preventing violent conflicts. But despite this Nobel prize, the Jasmine revolution is far from being consolidated and appears to be devouring its own children.