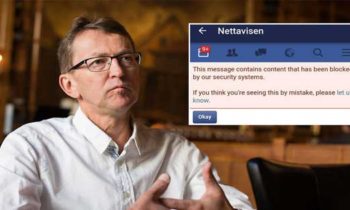 Facebooks stopped the sharing function after the Norwegian mainstream newspaper Nettavisen posted an interview with Halvor Fosli, an author who is critical of Islam. Incomprehensible what would be inappropriate, says news editor Erik Stephansen.In the interview, writer Halvor Fosli talks about his new book "Strangers in their own country."
In the interview, Fosli explains that many Norwegians in the suburb of Grorud in the Norwegian capital of Oslo, feel alienated or like strangers in their own local community.
– It's not about skin color, but about culture, about religion, he said.
Fosli is concerned about the development of immigration in Oslo and hope that the book can be an important input to the naive view of integration.
Nettavisen shared the interview with Halvor Fosli on its Facebook page on Saturday morning.
Then the newspaper got messages by readers who wanted to share the article with friends, but were prevented because Facebook blocked the option.
Facebook users say they are not able to share the article via social media, and the same applies in comments under the article.
Several also say that they have reported the issue to Facebook, because they think it is contrary to freedom of expression that it has been stopped for sharing.
Nettavisen has also reported the blocking of the article as an error to Facebook's automatic messaging, but has not received a reply from the service.
Nettavisen's news editor, Erik Stephansen, can not see what in the interview that is so inappropriate that it has been blocked by Facebook's security system.
– It is very startling that an ordinary interview in a serious Norwegian newspaper is censored in this way. It is also incomprehensible what would be inappropriate. It revolves around an interview with a Norwegian author who has written a book, although it is about a controversial topic. But this is why it is more important that we protect freedom of expression, he says.
– This also shows how dangerous it is to hand over the editorial responsibility to Facebook or other US media giants. I do not think Norwegian media are less skeptical after this, says Stephansen.
Nettavisen is one of very few Norwegian mainstream newspapers who sometimes dare address problems about immigration and Islam.