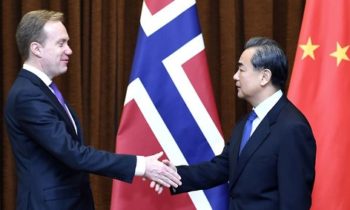 Norwegian Foreign Minister said the two countries would immediately resume negotiations on a free-trade deal.
Norway and China on Monday normalised diplomatic and political ties, frozen since 2010 when Chinese dissident Liu Xiaobo was awarded the Nobel Peace Prize.
Norwegian Foreign Minister Boerge Brende said the two countries would immediately resume negotiations on a free-trade deal. "Through meticulous and numerous conversations, the two sides have over the last years reached a level of trust that allows for resumption of a normal relationship," they said in a joint statement.
Chinese Foreign Minister Wang Yi said in a separate statement after meeting Brende in Beijing that in recent years relations had taken a serious step backwards. "Norway deeply reflected upon the reasons why bilateral mutual trust was harmed, and had conscientious, solemn consultations with China about how to improve bilateral relations," Wang said.
Both sides reached an important consensus on the lessons learned and restoring mutual trust, which accords with the interests of Norway and its people and the correct direction of relations, he added, without mentioning Liu. "Norway has made its stance clear on key and significant issues regarding China's sovereignty and territorial integrity," Chinese foreign ministry spokeswoman Hua Chunying said in a statement posted later on the ministry website.
Chinese Premier Li Keqiang, in his meeting with Brende, said China was willing to start free trade talks, China's Foreign Ministry said, also without mentioning the Nobel laureate.
Liu, 59, a dissident involved in the 1989 Tiananmen Square pro-democracy protests crushed by the Chinese army, was jailed for 11 years in 2009 on subversion charges for organising a petition urging an end to one-party rule. He remains in prison.
The peace prize is chosen by a committee in Oslo, while other categories of the annual awards are decided in Stockholm. Shares of Norwegian salmon exporters, which have largely been shut out of the lucrative Chinese market, rose on Monday, with Grieg Seafood and Marine Harvest up 2.1 and 1.1% respectively.