"There are several areas where the training is really overlapping," U.S. NATO envoy Kay Bailey Hutchison told reporters.
NATO agreed in 2018 to launch a training mission in Iraq involving around 500 troops with the aim of building up the country's armed forces so they could better combat extremist groups. Only the anti-IS coalition fights extremists.
But the NATO operation was put on hold last month after a U.S. missile strike at Baghdad airport killed Iran's top general, and the Iraqi government and parliament demanded that foreign troops leave its territory. As tensions mounted, Trump insisted that the alliance should do more in the region.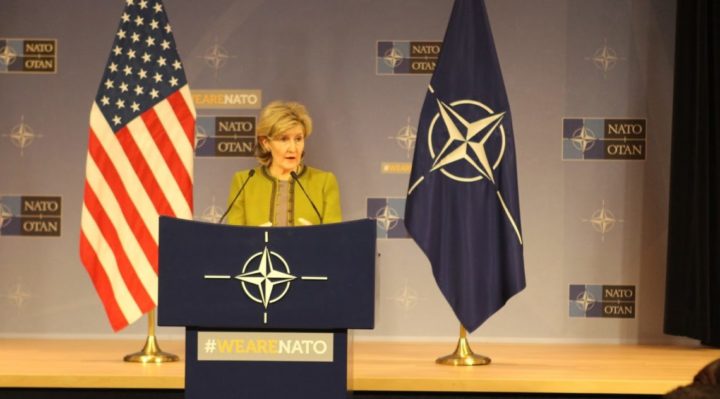 However, there is little appetite among European allies and Canada to deploy troops, even though the U.S. is by far the biggest and most influential of the 29 NATO member countries.
While she didn't mention numbers involved in the troop swap, Hutchison said that NATO's plan is to expand its training operation to more Iraqi bases. But officials said that over "a couple of hundred" troops are likely to shift into the NATO training mission and operate out of bases in central Iraq. Overall, the number of troops from NATO countries working in Iraq would stay the same.
Officials are confident that Iraq will soon let the military alliance resume its training mission, particularly after NATO Secretary-General Jens Stoltenberg held a series of talks with Iraqi and regional leaders.
"We will only stay in Iraq based on an invitation from Iraq," Stoltenberg said Tuesday, but he underlined that "one of the weapons we have in the fight against terrorism is to train local forces, enabling them to fight terrorism themselves.
Hutchison also said that NATO is set to task military commanders with looking at other ways for the alliance to boost its role in the wider Middle East.
Below is a full rush transcript of the press conference by Ambassador Kay Bailey Hutchison U.S. Permanent Representative to NATO
Ambassador Hutchison: I'm very pleased to be welcoming Secretary of Defense Esper tomorrow, where we will meet with the other 28 allies, defense ministers, and talk about the priorities that we have, especially from the Leaders Meeting in December in London. And number one, of course, on that list this time is the request from President Trump to do more in Iraq. He's asking NATO to step in so that we can do more training and more capability building of the Iraqi forces, and help the Iraqis to be able to hopefully, in the near future, be able to defend their own country and create that security environment.
We're also going to be talking about Russia and the deterrence that we are committed to with Russia because, of course, we have a European defense initiative as well as an enhanced forward presence that assures that we have the capability to keep any encroachment from Russia onto the borders of our NATO allies.
We will be talking about NATO-EU cooperation because we're going to hope to be able to work with the EU on military mobility, and we hope to be able to bring in more of the efforts that EU can do that will augment our NATO defense and security policies.
And then we will be having meetings with our allies and partners on the mission in Afghanistan. It is very important. We have 40 partners as well as our 28 allies in Afghanistan, where we are trying to come together with the Government of Afghanistan to create a peaceful environment, and, of course, that is something that Ambassador Khalilzad has been working on for many months and we will be informing our partners and allies of that, the – where we are, the status of that.
So those are the things we will be talking about. Burden sharing is always an issue, and I will say that President Trump has asked our allies to do more not only in the missions as we have talked about in Iraq, but also more in defense investment, and our allies are stepping up and that is a good message that we can give that NATO is working, we are adapting, and we are creating a security environment for all of our citizens.
Question : The parliament is ratifying the protocol for the membership of North Macedonia to NATO. When do you expect the North Macedonian flag to be flying over NATO Headquarters?"
Ambassador Hutchison: I think by summer we will have that North Macedonian flag that will be right out front with all of the other 29 flags that now fly at our NATO Headquarters. We have almost every one of our allies has acceded to the access of North Macedonia. One has a formation of government, so it's only a process issue. So I think that very shortly we will be able to welcome our allies in North Macedonia, and they've done a great job of reform and seeking this membership and being patient, and then creating the leadership on the name that was essential to begin this accession process. So we'll be very happy in the spring to welcome them to our table.
Question : Due to their disagreement over language rights of the Hungarian minority in Ukraine, Hungary has blocked Ukrainian participation at NATO ministerials since 2017. What is the U.S. position on this, and do you support the idea of NATO as a platform for debating human rights?"
Ambassador Hutchison: We do support having Ukraine as an enhanced partner that we believe that it is and having the capability to have ministerial-level meetings with the defense minister of Ukraine. We hope very much that Hungary will work with us to allow that to happen. We've always said that bilateral issues should not hold back the key efforts that NATO is making, and we want to make sure that human rights are respected by all of our NATO partners as well as members, but it is something that is a bilateral disagreement here, and we hope very much that Hungary will set aside this issue and we will work with Hungary to assure that Ukraine is respecting minority rights, but we also want NATO to be able to have high-level meetings with Ukraine who are very much in need of our help right now.
Question : Any update on the President's proposal to have NATO take a more robust role in the Middle East? Have there been any more details sketched out? And can you give us any details on ongoing discussions with NATO allies regarding this proposal?
Ambassador Hutchison: Yes, we have been working with the secretary general and all of our allies are working to see what we can do more in Iraq to help stabilize that country and help train the Iraqi forces so that they have the capability to do their own defense. This is going very well. I think that the secretary general has really led in this effort, and I think our NATO allies are very willing to step forward, do more in counterterrorism, and now we're looking at what the commanders on the ground say could take some of the burden off of the Coalition to Defeat ISIS, which is there trying to assure that ISIS does not come back in Iraq – take some of the load off of that operation, move it over into NATO forces, and I think NATO has a great reputation for being able to give capabilities to foreign soldiers and military so that they can help themselves. We've done that in Afghanistan; we'd like to do it in Iraq.
Question : An investigation has found that the inner circle of Viktor Orban and a Hungarian-Russian nuclear company paid €4 million to fund a media operation against North Macedonia's entry to NATO. How can attacks against democracies and NATO memberships be prevented?
Ambassador Hutchison: Well, that would be a hybrid or a cyberattack, and we are doing so much in NATO to try to prevent those. And also, I have to say, unfortunately, sometimes we can't prevent but we can go quickly out into the media to repel something that is coming in that is malign, that is not factual, that is an attack on the human rights or the government of a country. We know that some of our outside adversaries have done that in all of our countries. I haven't heard of this specific incident at all, but we do try to put as many defenses up as possible against malign activity, hybrid or cyber.
Question : The Pew Research institute has published the results of a survey this week that showed declining support for NATO in key countries such as France and Germany. What steps is the U.S. taking to ensure continued popularity of NATO in Europe?
Ambassador Hutchison: That's a good question, and we have, of course, seen the results of that poll. And I think that some of our leaders have criticized NATO in different ways, and now I would say that the alliance is going forward, addressing those concerns, especially I think the European allies have stepped up their strengthening of their defenses, which President Trump asked them to do. And so I think we're going in the right direction. I think allies are serious about making sure that NATO is strong, united, and resilient.
So while I see that the polls are somewhat down, certainly in America we have bipartisan support in Congress and we need to always work on our message so people know what we're doing. We also need to message to our people that the world is not a safe place, that we can't take security for granted, and I think sometimes it is the lack of awareness of the threats that we face that would make perhaps the public not appreciate the importance of NATO. But we are 29 allies, we speak with one voice for democracy, for rule of law, for human rights respect, and this is something that we must stand for together and face our adversaries who do not have democracies, do not have freedom, do not have respect for human rights. And we're going to stand allied against those, and maybe we need to message a little more, but we will do that. And especially as we show success in deterring and defending against these adversaries, people, I hope, will appreciate that 29 democracies speaking for our way of life is our most important unifying message.
Question : What kinds of activity does Washington have in mind for its NATO partners, and where exactly – in Syria, in Iraq?"
Ambassador Hutchison: Well, I think what we're trying to do is realize that there is terrorism in many parts of the Middle East now. Somewhat Iran, with its militias and its terrorist support, has put terrorist groups into other parts of the Middle East, certainly Iraq and Afghanistan, but others as well. So we want to be prepared with more NATO forces to train the people in these countries to be able to defend against terrorists who would tear their country apart.
Question : What specific cybersecurity input has tiny Luxembourg contributed to NATO's joint defense in the past two years? And are – is digital security and cyber defense Luxembourg's primary niche in the alliance going forward?"
Ambassador Hutchison: It's a very important niche for Luxembourg, and since Luxembourg has a relatively small armed forces, they do contribute in this technology area. And this is so important because if you see throughout our alliance, every one of our countries has had cyber and hybrid attacks from Russia, some from China, and we need to continue to build our defenses and build our knowledge of how these malign influences are coming into our countries. And sometimes we find that a Russian bot will end up talking on both sides of a controversial issue within a country, so they are fomenting more disintegration of trust in our countries' governments, and now that we're understanding better some of those methods and technologies, which Luxembourg is contributing to our knowledge base to do, then we will be able to repel better and hopefully, at some point in the future, we'll be able to knock things out that would be misinformation before it gets widespread.
Question : Over the last week Turkey has lost more than a dozen soldiers in Idlib to attacks by Syrian regime forces. Does the U.S. support Turkey's present force posture in Idlib, and would it support a more aggressive posture?
Ambassador Hutchison: Well, certainly the Russian support of the Syrian dictator Assad is very troublesome in that they would attack and kill Turkish people in the military is unthinkable. And they're doing it, and we have come out strongly against that Syrian-backed-by-Russian activity. Turkey is our ally, our partner in trying to curb terrorism. We don't agree with everything that Turkey has done in Syria, but we do think that these attacks by Russia, or Syria backed by Russia, are out of line and we hope that, of course, we can get back to a more peaceful situation with a safe zone for the Syrian people who are in the middle of all this. And so many civilians – thousands of civilians in Syria have been murdered and even chemical weapons being used by Assad against his own people. We're standing against that. We very much are going to back Turkey in this situation and ask Russia to back off supporting Assad so that we can go to a peace agreement for Syria so that the people can have some kind of a governance that will take care of them rather than attack them, as Assad is doing.
Question : Is there any update on the 'forward-looking reflection process' under the secretary general that allies agreed to at London in the December meeting in the wake of President Macron saying that NATO is experiencing brain death?
Ambassador Hutchison: Yes, there is a lot of activity. Our alliance is talking about how we would like to give a mandate to a small group of people who have – representing many of our countries, but people who have experience with NATO and understand our strength and our unity and our transatlantic bond. And what we want is for them to look at NATO today and if there are suggestions on how we could improve or strengthen our political dialogue, the contributions that NATO can make, that we will do that. And we are very much in a process now of putting forth that mandate. We're talking about it with all of our allies. We will have input from all of our countries to see what we can do to assure that we are adapting for the future, that we do have a political structure that will allow us to make decisions in a relevant timeframe, and to be able to address any kind of attack on any one of our countries.
Ambassador Hutchison: Well, let me just say thank you for all of you who have decided to come in and ask questions and have an interest in our defense ministerial that will happen this week. We are continuing to make progress on how we can create that security umbrella, whether it's hybrid and cyberattacks, whether it's the space domain, which we are now expanding into – both NATO and the United States – and as well, the actual conventional warfare, the arms race that we see happening that we don't want proliferation to occur. We are seeing all of these things and NATO is clearly trying to anticipate anything that will devalue our safety for our citizens and move forward to deter against any adversary, whether it be a big one or a small one or a hybrid or a cyber one. We want to make sure that we're doing everything we can to stay ahead of the curve and protect our citizens.