The US has officially announced its intention to purchase Norwegian anti-aircraft missile systems NASAMS. They will be provided to Ukraine. Ukraine will be the first country in the world to oppose NASAMS against a Russian warplane.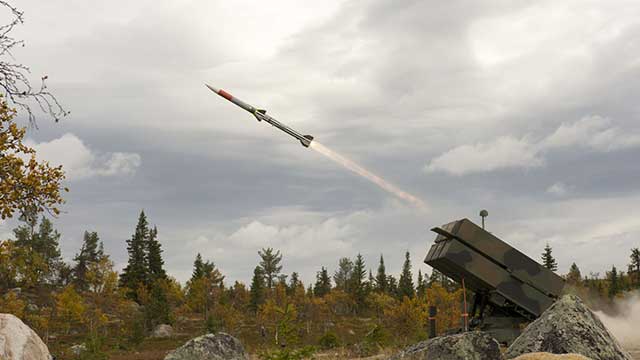 The news came during a briefing at the US Department of Defense on July 29. The procurement procedure has already started, the US DoD announced. Ukraine claims the US will provide two NASAMS batteries. That means 12 mobile rocket launchers [each battery has six rocket launchers]. At the moment, there is no official information on when the procedure for the purchase of NASAMS is expected to be completed, and when Ukraine will receive them.
At the end of June, BulgarianMilitary.com announced that the US intends to provide NASAMS to Ukraine. Then, a senior Washington source disclosed the White House's intentions for the first time. In early July, the US Department of Defense confirmed the source's claims. NASAMS was a missile system desired by Kyiv at the beginning of the war.
NASAMS in brief
NASAMS is Norway's national air defense system. Its range is medium and is designed to counter drones, helicopters, and all types of fighter jets. NASAMS successfully resisted, intercepted, and destroyed cruise missiles.
Currently, nine countries are operating this anti-aircraft missile system and five more are in line waiting for a response to its acquisition. NASAMS has an average range: of between 25 and 30 km, depending on the missile used. The maximum altitude at which the rocket flies is 21 km.
NASAMS can be integrated into vehicles and thus from a ground-based to become a mobile system for difficult terrain. NASAMS can often be seen on a 6×6 chassis, but its practicality is that after a quick modification it can be easily integrated into vehicles with a 4×4 chassis.
NASAMS I of the system works with US-built MPQ-64 Sentinel air defense X band 3D radar, but NASAMS II in addition to having Link 16 has a significant update of the radar system, as experts say that it is better than version 1 It should be noted that NASAMS has secondary armaments that serve the crew of the system to provide protection in close combat. Secondary integrated weapons are the RBS 70 laser beam assisted MANPADS system, and the Bofors 40mm L70 gun [controlled by the Oerlikon Contraves FCS2000 mono-pulse doppler tracking radar].
The risks
It is not yet clear which version will be delivered to Kyiv, as NASAMS has developed three versions. Military experts suggest that Ukraine can receive NASAMS II [second version] as it has an integrated military tactical data link network link 16 used by NATO. Although Kyiv is likely to endanger the safety of its own air squadrons in this way, NASAMS II will allow it to quickly and accurately intercept weapons systems, aircraft, helicopters, cruise missiles, and drones with Soviet or Russian designs.
However, the logic is that Ukraine should receive the first version of the system for security reasons. Although NASAMS is a very good anti-aircraft system, there is a possibility that the Russian armed forces will strike and destroy it. Thus, if this happens with version 2, Moscow will have access to sensitive Western technology.
Another problem is the missiles used. Unlike the weapons systems sent to Ukraine so far, NASAMS works with relatively new missiles, such as AIM-120 AMRAAM [Advanced Medium-Range Air-to-Air Missile], AIM-9 Sidewinder, IRIS-T SLS short-range missiles, and AMRAAM-ER extended range missiles. They can also fall into Russian hands, giving them the same access to new technology.