Radisson is further growing its presence in Norway with the launch of Radisson RED Oslo Okern. Situated in the buzzing, new sustainable community of Okern Portal and only 15 minutes from Oslo Central Station, Radisson RED Oslo Okern is part of a large sustainability-focused business area, which includes Northern Europe's biggest rooftop garden where herbs and vegetables are grown and used by the hotel and wider area's restaurants. The hotel has been certified with an Excellent rating from BREEAM, one of the world's leading science-based systems to determine the sustainability of buildings. It considers a building's low impact design and carbon emissions, adaption to climate change, and ecological value and biodiversity protection. The hotel has an A class energy rating, meaning its energy level will not exceed 140 Kwh/sqm, and it uses rainfall catchers to water its rooftop garden. Additionally, the Okern Portal community has its own energy wells that produce 90% of the heating for the entire development.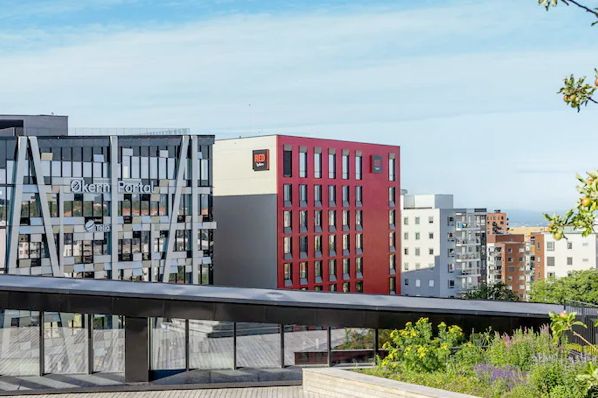 The hotel includes 204 guest rooms with artistic details showcasing a playful twist on the conventional through its design concept. The eye-catching entrances of Radisson RED properties contain huge sculptures that relate to the location. At Radisson RED Oslo Okern, this sculpture takes the form of a tiger, recognizing the city's nickname "Tigerstaden", or "Tiger City", believed to be coined by Norwegian poet Bjornstjerne Bjørnson, who used a tiger to represent Oslo in his poetry. The statue can be found on the rooftop terrace and outside the main entrance.
On the hotel's 12th floor, guests are treated to a stunning panoramic view of Oslo from the hotel's restaurant, RED Rooftop bar, and outdoor terrace. At the end of the day, guests can enjoy a well-earned drink and a delicious bite to eat on the terrace and enjoy sounds from a DJ on Fridays and Saturdays. The hotel offers 13 meeting rooms, with the largest room able to accommodate 120 guests, including the perfect breakout space to inspire and spark creativity for meeting delegates.
Tom Flanagan Karttunen, Area Senior Vice President, Northern & Western Europe at Radisson Hotel Group said: "This is the perfect location for our second Radisson RED property in Norway, following the opening of Radisson RED Oslo Airport earlier this year. Radisson RED's creative approach works in harmony with Okern Portal's green spaces and sustainable initiatives, and offers the best city views from its rooftop bar and outdoor terrace."
Jorgen Holte, General Manager of Radisson RED Oslo Okern commented: "I am proud to open this exciting new hotel concept in Oslo. We know sustainability is a key focus for travellers today and we are always looking to develop innovative hotel experiences. Radisson RED Oslo Okern combines sustainability initiatives, Radisson Hotel Group's Yes I Can! Service, and Radisson RED's playful twist on the conventional, which we are sure guests will enjoy."