Kosovo agreed to withdraw police units from its northern border with Serbia to end a mounting dispute over vehicle licence plates that briefly escalated into violence and prompted NATO to step up patrols.
U.S. Deputy Assistant Secretary of State Gabriel Escobar was in Brussels to support EU-led talks, saying they showed the potential for more progress in the Balkans.
"I think we can make enormous strides in helping the Balkans get over a very difficult period during the '90s and hopefully, eventually become more integrated with the European Union," Escobar said on a briefing call with reporters.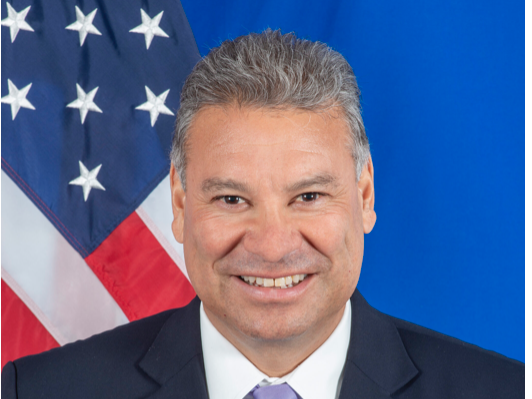 Below is a full rush transcript of the press conference by Gabriel Escobar Deputy Assistant Secretary, Bureau of European and Eurasian Affairs.
DAS Escobar: Thank you and Thank you to everybody who is calling in to participate on this phone call. I think today was an important success and it highlighted two things. One is that the EU-led dialogue is really a place for finding solutions, and they fulfilled that role today and we're very proud of the parties for showing flexibility and a commitment to finding solutions. I also want to thank the hard work of EU Special Rep. Miroslav Lajčák and his team, who worked very, very hard on some very, very good solutions. And my – the purpose of my visit was essentially to show support for that dialogue.
But the other lesson that I think this highlights is that with the partnership that we have with the European Union, I think we can make enormous strides in helping the Balkans get over a very difficult period during the '90s and hopefully, eventually, become more integrated with the European Union.
But that's – those are my initial thoughts. I think we have a long way to go on the dialogue, and as we go forward we will continue to show our full support for Mr. Lajčák and his team, and we'll continue to look and encourage the two sides to look for constructive solutions. And with that, I'm happy to take questions.
Question: Have you been notified in advance by the Kosovo Government that they will apply reciprocity on license plates which are then – which then produces blockades in northern Kosovo? How have you seen this decision of the Kosovo Government?
DAS Escobar: Well, look, it is the right of the Kosovo Government to apply reciprocity. That was agreed to in advance. The actual implementation of it, I think, caught many of us a little bit by surprise. But eventually this was going to happen, and I'm glad that we were able to reduce the tensions that came up with the implementation. And in the long term, we're looking for a more durable solution, a more European solution to the license plate issue.
Question: When will you visit Belgrade? Do you think further dialogue makes sense without issue of establishment of the Community of Serb Municipalities? Is the Washington Agreement still in force as far as Gazivoda is concerned?
DAS Escobar: Well, with regard to my travel to Belgrade, I would like to travel to Belgrade as soon as practicable. Obviously, there are some scheduling concerns and some COVID concerns as well.
With regard to the commitments made in Washington in September of last year, we – they are commitments that we hold important, particularly the moratorium on de-recognitions and recognitions. We think that holding to that part of the agreement will give the dialogue some space to resolve broader issues.
In terms of Gazivoda, I look at it in terms of a broader regional energy strategy. There are a lot of exciting things that are happening in the Balkans right now with regard to energy, and one of them is that there is a growing potential for renewable energy, and Gazivoda will be part of that solution. But it will be – the solutions will be regional, and they will contribute not only to their EU requirements, but also in – with regard to helping mitigate the effects of climate change. So Gazivoda is still very much on our minds.
Question: How do you see the chances of progress or even a breakthrough by the EU-facilitated Belgrade–Pristina dialogue?
DAS Escobar: Well, I see a lot of optimism and he has our full support. So we will work with the two parties and we will coordinate very closely with not just the special rep, but also with our Quint partners. And I don't know what would be – what you would classify as a breakthrough, but I would anticipate that there will be great progress in the next year or so.
Question: Will there be greater involvement of the U.S. in the Kosovo–Serbia dialogue, and what will your role be in this process?
DAS Escobar: Well, the dialogue is EU-led, so it will continue to be EU-led because ultimately our hope is that it will result in integration into Europe of the whole region.
And with regard to our role, our role has always been very present in the region. With Kosovo, in particular, we have an enormous assistance program, we hold leadership positions within KFOR, and we have very, very strong bilateral cooperation with Kosovo. And the same is true with Serbia. We have a very good partnership with Serbia on many issues – law enforcement issues, migration issues, and economic issues – and we hope that we can leverage those partnerships to bring some greater understanding between the two parties.
Question: Is KFOR going to relieve Kosovo's ROSU special police on the Kosovo side of the border as reported by some local media? If so, would it be with forces in Kosovo like the MSU, or could the over-the-horizon reserve force be activated?
DAS Escobar: The role of KFOR is to ensure security in the region, and they've done that effectively, but their role is not to take over functions that should be domestic functions. Our hope is that as a result of this agreement that there won't be the need for any special units. We expect that, and we expect that the border crossings will be operated as they were before.
Question: Is it true that Kosovo, with the action in the north, has endangered national security?
DAS Escobar: I won't comment on diplomatic communications. But we do have very close communication with the governments in Belgrade and Pristina. And we're urging caution and restraint on both sides, and I think they both did. So the idea was to bring negotiators to Brussels and to hammer out a deal, an immediate deal in the hopes of later creating a mechanism to find a more sustainable solution. All of that has been agreed to, so I think the outcome of these talks was very successful.
Question: Kosovo or Serbia may refer to the expiration of other deals that have been signed under the EU-facilitated negotiations and that could again spark a bilateral crisis. Do you think that the EU-facilitated negotiations are on the right path, and do you think they will be resolved quickly, or do you think this will take a long time?
DAS Escobar: The resolution will depend on the goodwill of the parties. I can tell you that the dialogue and Lajčák's staff are working very diligently to put as much on the agenda as possible and to present some good options on nearly all of the agenda. But the outcome will depend on the goodwill of the parties.
Question: Were you concerned with the activity of the Serbian military at the border region towards Kosovo with the active involvement of Russian military and diplomatic personnel? Is the introduction of a ground and air safety center on Kosovo a good idea?
DAS Escobar: Well, look, I'm not as well briefed on the details of that, but we did see the escalation of forces on either side of the border as unhelpful. We also thought that the intervention of, or at least the messaging by, people outside of the region who are not involved in the dialogue and who are not actively looking for solutions that would be more permanent, as unhelpful. But ultimately, we were in close consultation with both sides and urging them to exercise restraint.
Question: Will the U.S. continue to support Montenegro if the pro-Russian political alliance Democratic Front enters the government? And are U.S. security agencies helping the Montenegrin authorities to solve a longstanding problem of cigarette and drug smuggling?
DAS Escobar: Well, on the second part of the question, the answer is yes, we have very good law enforcement cooperation with Montenegro. We are working very closely with them to build their capacity to combat corruption, smuggling, money laundering, trafficking. All of those are part of our broader law enforcement agenda.
With regard to U.S. support for Montenegro, Montenegro is not just a friend, it's an ally within our common defense structure of NATO. So we do support Montenegro. We would hope that Montenegro will continue on its European path, its Western path, and we're going to do everything we can to support them in that effort.
Question: Will the United States transmit or they have already transmitted a message to the Bulgarian authorities regarding the Bulgarian veto against beginning of the negotiations with Northern Macedonia? So what will the United – will the United States do anything to unblock and to resolve this dispute?
DAS Escobar: Well, look, I – the United States is convinced that Albania and North Macedonia have done – have made some very important reforms. They've moved their candidacy forward immensely. They have undertaken enormous political steps, some of them very painful, and they deserve to begin intergovernmental – the intergovernmental conferences as soon as possible, hopefully this year.
And we hope that all European member-states understand the strategic importance of letting them begin this process, and we hope that the European Union both as individual member-states and as an organization understand the strategic value of the Balkans and their integration into Europe.
Question: Do you think Montenegro, after changes in the prosecutor's office, can achieve better results in the fight against crime and corruption?
DAS Escobar: The fight against crime and corruption is a problem all over the Balkans, and we stand alongside all the governments and all the officials and all the institutions that have pledged to do so. So we are hopeful that Montenegro can continue to pursue that, and we're hopeful that we can partner with the Ministry of Justice on all of this.
Question: In Albania there is a bit of dissatisfaction with the fact that the State Department seems to be concentrated on the opposition at a time when perception of corruption in governance is high. What can you tell us about this?
DAS Escobar: Well, look, I – we are partnered with all of the parties and all of the individuals and all of the institutions that are trying to move Albania to more democratic, more transparent, and more Western orientation. And – but broader than that, our partnership with Albania is with the Albanian people and their aspirations, not with any particular party or any particular individual.
Question: These days, the domestic public more often hears that the European Union is turning its back on the Western Balkans, and often the citizens of Serbia have such a feeling. Are we losing the European perspective? Is that how you interpret it? And the second question: "If that perspective does not exist, I assume it is clear to you on which other side assistance could be sought, or do you have any fears about that?
DAS Escobar: Well, I'll start with the first one. I have encouraged my European partners to give a stronger message that the Western Balkans are both wanted and needed in the European Union, and I'll continue to push that message. I do believe that within the Quint there is solid agreement that the countries of the Western Balkans should be part of Europe.
With regard to the orientation of the country should that process not be as rapid as we want, I can tell you that the countries of the Western Balkans are European; they're culturally, historically, and economically European. The largest diaspora of people from the region are in Europe. Their economies are tied to Europe. So our hope is that the two sides can realize that they are already integrated and then make the progress to complete that integration.
Question: Will the U.S. appoint a special envoy for the Kosovo-Serbia dialogue as Richard Grenell was in the previous administration?
DAS Escobar: That remains to be seen. But in the meantime, I am the State Department's representative to the region, and it's one I take very seriously, and I promise to be as active as I possibly can and as open to finding solutions both bilaterally and in coordination with our European partners. I once again want to commend Special Representative Lajčák for his hard work and for the success that we – that he accomplished today. Thank you very much.