People can contract diseases caused by pathogens found in both animals and the environment. Pandemics seem to be getting more frequent. Why? Moreover, can new pandemics be avoided? These were some of the topics that the Norwegian Minister of Agriculture and Food, Olaug Bollestad heard about, and discussed, in a meeting with Carlos das Neves, Director of research and internationalization at the Norwegian Veterinary Institute and President of the Wildlife Disease Association (WDA), at a meeting on March 11th.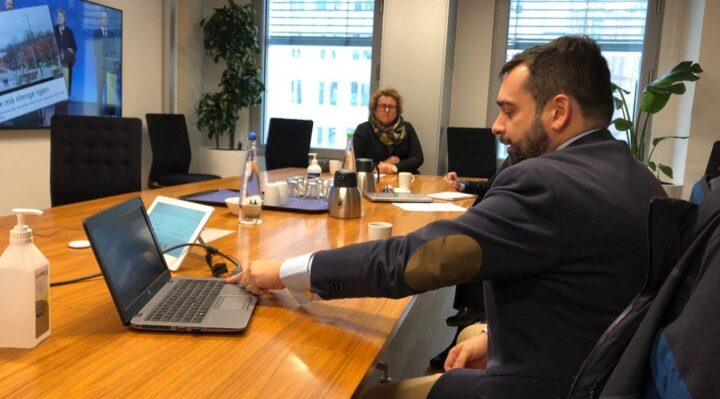 − It is important to be aware that human health is inextricably linked to animal and environmental health. The advance of new diseases often occurs at the interface between humans, animals, and the environment. Carlos das Neves is an international expert in this area, and it is useful to get an overview on the origins of pandemics and what can be done to limit them, says Minister of Agriculture and Food Olaug Bollestad (CDP).
Today, March 12th, one year has passed since Norway was shut-down due to Covid-19. Many people worldwide have died, and the pandemic has had enormous consequences at different levels, including in agriculture and food production. It is therefore worth dwelling on some of the experiences accumulated and how these can help us deal with new pandemics that will come.
For it is far from the first time in history this has happened. Throughout the ages, people have experienced diseases with origins in animals that have toppled empires, triggered international crises and plunged entire communities into economic hardships. And now it looks as if pandemics are occurring more frequently.
How to limit and prevent pandemics?
It is known that more than 60% of emerging infectious diseases are so-called zoonoses, that is, diseases transmitted from animals to humans. Many of these originate in wild animals. At the same time, we lack an overview of the pathogens (infectious agents) the world should be especially wary of. Carlos das Neves, director of research and internationalization at the Norwegian Veterinary Institute, has briefed the Norwegian Minister of Agriculture and Food Olaug Bollestad on the current covid-19 pandemic. Here he presented the ongoing investigation work into the origins of this pandemic, and how the world, through a "one health approach", can work to predict, prevent, and be better prepared to face pandemics in the future.
Das Neves said that while it was perhaps surprising that the virus, Sars-Cov2-spread so quickly, it was widely known that viruses in the corona family were circulating in wild animals, and that this "species-jump" could happen. Despite this, many countries were not ready to deal with the spread of such a virus. This situation confirms, according to das Neves, how important it is to pay greater attention to biosecurity with good national monitoring of both animal and environmental health – at the same time as we focus on good human health.
On the hunt for the origin of the coronavirus
Das Neves is an international expert in the area of wildlife health and "One health", and an important advocate for this holistic view, which should help shape future work and interventions. − It is through such a One Health approach that we may be able to better predict pandemic events, and perhaps prevent them from happening, das Neves said during the meeting with Minister Bollestad.
In addition to his position at the Norwegian Veterinary Institute, Carlos das Neves holds other international roles. He is currently the president of the Wildlife Disease Association and a member of the Lancet One Health Commission. Das Neves is also a member of the Lancet Covid-19 Commission Task Force, which is a group working to recreate the timeline of the Covid-19 outbreak from as far back as the SARS outbreak in 2003 and up until the WHO's declaration on the Covid-19 pandemic one year ago.
− It is important to understand the origins of this coronavirus. Most likely, it originated from an animal and spread thereafter to humans. The big question, however, is what happened to this virus in between and how it changed to become dangerous for humans. If we find out more about this, we may be better equipped to deal with similar problems in the future, he said.
Surveillance and international collaboration is important
− Major global changes are taking place in the way we use the land, such as deforestation, expanding and intensive agriculture, urbanization, and increasing trade in wild animals. These changes entail more contacts, and with it, more frequent transmission of pathogens between wild animals, domestic animals, and humans. If we stay on this course, more and more new infectious diseases will emerge, for which we may not have good defenses, said das Neves.
He refers to good animal health, which is often forgotten when it comes to the supply of food to the world's population. "One Health" is also about how resources and ecosystems are used in the world. Among other things, Das Neves mentioned the importance of keeping food systems free of disease outbreaks, especially during the ongoing pandemic: − The last thing we need now is a major disease outbreak in food-producing animals. It would further complicate the difficult situation we already experience. This is part of One Health and is a priority area for us at the Norwegian Veterinary Institute, he said.
The research director at NVI referred also to the fact that the world in general lacks good surveillance of viruses and other pathogens in wildlife species.
− While the next pandemic is unlikely to originate in Norway, we must remember that we are only a few hours' flight away from what we consider "hot spots for emergence, such as some parts of Africa and Asia", das Neves said. He also mentioned that Norway has a good animal health monitoring system and active preparedness against a number of health threats.
In addition, Norway has a very close and good cooperation between research, industry and government. Das Neves calling this the "Nordic model", believes that −time and time again, this model has proved to have great advantages.
This knowledge and expertise are important for Norway to share with the world, because pandemics do not respect national borders. These are global problems that we must work on together, he added. Therefore, he also defends the importance of working with other countries to predict and prevent threats. The new EU Animal Health Regulation is an extremely good step in the right direction, and I hope more examples and initiatives will follow suit, das Neves concluded.