Defense Secretary Ash Carter is on the road again, this time making a stop in Norway, a country that has been a key U.S. ally for more than a century. He will meet with the Minister of Defense, Ine Eriksen Søreide, and discuss the two countries' defense partnership.
Countering Terrorism
Norway's contributions to the threats we face around the world are substantial, making them one of our most steadfast allies.
Norway has become a valuable contributor in combatting terrorism worldwide, especially recently in the campaign to deliver ISIL a lasting defeat. Notably, it is one of the few countries with a mandate to operate in Syria. In May, Norway announced it would expand its role in the fight by deploying special operations forces to Jordan and by training Syrian Arab Sunni fighters. In Northern Iraq, Norway contributes medical personnel and trainers.
Demonstrating its long-term commitment to Afghanistan, Norway is presently mentoring Afghan National Security Forces under NATO's Resolute Support Mission and contributing stabilization funds.
Strengthening the North Atlantic and High North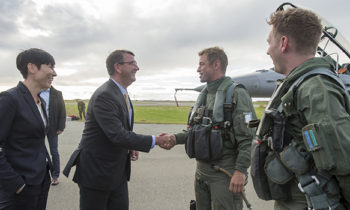 The Northern Flank is comprised of NATO's northernmost allies and partners, with Norway being one of the closest of the United States.
During his trip, Carter is visiting the Norwegian Joint Headquarters (NJHQ), which – thanks to its strategic location in northern Norway – is critical to protecting Norway and NATO from external threats.
Aside from Norway's Armed Forces directly contributing to shared bilateral security objectives, it is a strong partner for the United States' regional force posture in Europe, through the Marine Corps Prepositioning Program-Norway. U.S. troops also participate regularly in readiness cold weather training exercises such as COLD RESPONSE, which Norway hosted earlier this year.
These issues are shared concerns for the U.S. and Norway, making the relationship an important one.
Deputy Assistant Secretary of Defense for European and NATO Policy James Townsend is responsible for managing the day-to-day defense relationship between the United States, NATO, the EU and the nations of Europe.
While traveling with the Secretary this week, Townsend said, "The U.S.‎-Norwegian defense relationship has never been closer. Norway and Minister Søreide set a high bar within the alliance for excellence in defense. The number and quality of initiatives we do together in the defense realm is among the highest in Europe – from cold weather training to maritime patrol and cross-border air exercises, we are always together doing something. We admire the prowess of the Norwegian military when we are on operations together, whether in Afghanistan, Iraq or in Europe as part of NATO. Norwegian SOF is some of the best in the world, as many of our adversaries have found out. It is great to be here with an Ally that shows the world how defense is done."
(DoD)