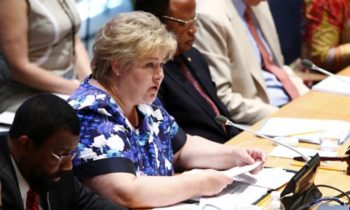 Social media firm deleted famous image of a naked girl running from a napalm attack because it broke nudity rules.
Norway's Prime Minister Erna Solberg said in a Facebook post that the social media firm was "wrong" in its decision to delete a famous photograph that depicts a naked girl fleeing from U.S. napalm attacks during the Vietnam war.
Solberg's statement, which also included the photo, has since been removed, though it is unclear whether it was deleted by Facebook or the prime minister herself.
Facebook ordered the Pulitzer-winning photo, which was first posted by a Norwegian writer in a list of images that changed history, be removed on the grounds that it broke nudity rules. After the writer subsequently published a fictional interview with the subject of the photo criticizing the decision, he was banned from the site for 24 hours.
Aftenposten, Norway's largest newspaper by circulation, then published a letter addressed to Facebook CEO Mark Zuckerberg accusing him of censorship.
"I am upset, disappointed — well, in fact even afraid — of what you are about to do to a mainstay of our democratic society," Espen Egil Hansen, the editor in chief and CEO of Aftenposten wrote, adding the move was "authoritarian."
Hansen said Facebook was abusing its power.
"First you create rules that don't distinguish between child pornography and famous war photographs. Then you practice these rules without allowing space for good judgement. Finally you even censor criticism against and a discussion about the decision — and you punish the person who dares to voice criticism," Hansen said.
"I think you are abusing your power, and I find it hard to believe that you have thought it through thoroughly," adding that editors could not play their role "with you, Mark, as a master editor."
(politico)