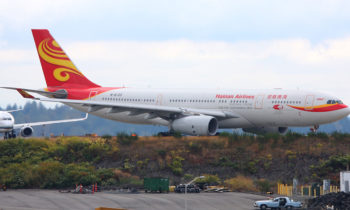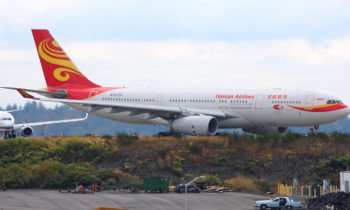 Chinese airline Hainan Airlines is opening a direct route between the Chinese capital Beijing and Oslo airport in the spring of 2019, with three weekly departures.
The Chinese airline will be the first to fly scheduled flights between Norway and China, opening in the spring of 2019.
"The coming new route of Beijing to Oslo is the first direct route between China and Norway operated by Chinese carrier Hainan Airlines. These efforts have gained Hainan Airlines with an optimized network between China and Europe. This new route will certainly intensify the communications between the two countries, thus stimulating the development of a prosperous economic tie for China and Norway, as well as the Nordic region", says Mr. LIU Jichun, Vice President of Hainan Airlines.
"This is excellent news for Norwegian travel, business and tourism. Hainan Airlines is a major international airline, and this will mean that even more Chinese tourists will have an opportunity to experience everything Norway has to offer." says airport director Øyvind Hasaas at Oslo Airport.
"Norway is the Nordic country with the largest number of Chinese tourists. This trend has seen very positive developments in recent years. It is therefore only natural that a large and recognized airline such as Hainan Airlines would want to open a direct connection to Oslo Airport," Hasaas says.
From Beijing, onward connections to other Chinese and Asian destinations are excellent.
"With Hainan Airlines, onward connections are very good to the major city of Shanghai. There are also good connections to many other cities in China and Asia, which are interesting destinations for both Norwegian tourists and not least Norwegian business." Hasaas explains.
Innovation Norway is of the opinion that direct connections to China are important to Norwegian tourism and the travel industry.
"In cooperation with Avinor and the travel industry, we have taken a long-term and dedicated approach to creating interest in Norway on the Chinese market. We have succeeded in this, but direct flights are a precondition to making Norway more relevant as a year-round destination. With the new route, we believe visitors will spend both more time and money experiencing Norway," says director of tourism with Innovation Norway, Bente Bratland Holm.
Demand for Norwegian seafood has taken off in recent years, with 2017 breaking all records. The new route between Oslo and Beijing means that Norwegian fish will arrive even fresher in the shops and restaurants in the Chinese capital and the surrounding areas.
"A direct route to China will be extremely positive for the export of fresh Norwegian seafood to the quickly expanding Chinese market. Fresh fish has a short shelf-life, and faster transport times will help ensure the products' quality." says Martin Langaas, Director Cargo in Avinor.
The route between Oslo and China will be operated by an Airbus A330-300 aircraft with 292 seats in a two class configuration with 32 flatbed business class seats and 260 economy class seats.
Hainan Airlines will have three weekly departures from Oslo Airport.