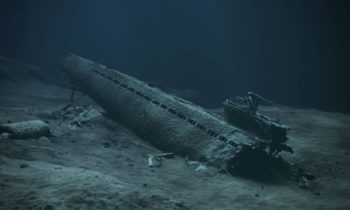 The Norwegian Government has concluded on capping the U-864 shipwreck with clean masses, thereby preventing future mercury pollution from the wreck and the surrounding seabed.
The Norwegian Navy discovered the shipwreck of the German World War II submarine U-864 in March 2003. Ever since, there have been debates, surveys and political discussions on how to best deal with pollution from the mercury cargo in the sunken submarine and the surrounding seabed. In 2014, the Norwegian Coastal Administration (NCA) conducted new surveys of the wreck and presented a thorough study on measures to prevent future mercury pollution. The survey of the wreck showed that removing debris and polluted masses from the seabed near the wreck would spread pollution outside the already affected area, and that capping is the best and most eco-friendly solution.
In the spring of 2016, NCA installed a counter fill on the slope under the bow section of U-864 in order to stabilize the seabed. The operation involved laying approximately 100 000 cubic meters of sand and rock in a controlled and precise manner from a specially designed ship. The result was reduced risk of movement by unconsolidated sediments, including contaminated materials, during seaquakes. Establishing the counter fill is a similar operation as capping, and it therefore showed that capping could be carried out with proven technology and with minimum spreading of contaminated sediments.
The Norwegian Government has based its decision on numerous reports and studies conducted by the NCA with the support from a wide range of experts that have concluded that capping is the best and most environmentally friendly solution for U-864.
– This has been a long and complicated process, and we must now make a final decision. Capping both the wreck and the contaminated seabed is the best solution with the lowest environmental risk, as it will effectively prevent future pollution, says Minister of Transport and Communications Jon Georg Dale.
According to studies by the NCA, a capping solution will isolate the mercury in the wreck and the surrounding seabed from the marine environment. The cap will cover an area of 47 000 square meters, including the wreck itself, the contaminated sediments, and a buffer zone of clean seabed of 17 000 square meters.
For 2019, NOK 30 million is allocated for engineering, tender competition and general preparation work. The capping will probably be complete by the summer of 2020.
( https://www.regjeringen.no/en/aktuelt/environmental-solution-for-the-shipwreck-of-the-ww-ii-submarine-u-864/id2614253/ )