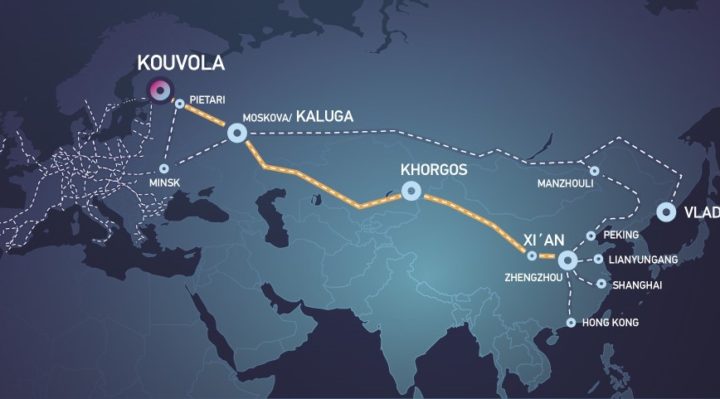 The first direct cargo train route linking China and Finland is being extended to Norway and Sweden as part of a Finnish city's plans to establish itself as a Northern European logistics hub for China-bound rail freight.
The route linking the southeastern Finnish city of Kouvola with Xi'an and Zhengzhou in central China was opened last November and the service has run in both directions every week since April. It takes 10 to 12 days to complete the one-way journey from Finland through Russia and Kazakhstan to China, compared to eight weeks when shipping by sea.
"We now have a working cargo rail connection to China and would like to make use of it for all Nordic countries," said Simo Päivinen, development director in charge of logistics at Kouvola Innovation Co.
"We have partnered with the cities of Narvik in Norway and Haparanda in Sweden so that local businesses there, such as import and export companies, can utilise this transport corridor too," Päivinen told gbtimes.com.
The agreement with Narvik was signed last week and a similar deal will be finalised with Haparanda by the end of June.
The two northern cities in Sweden and Norway will act as collecting points for local companies' cargo, which will be transported via rail or trucks to Kouvola and then loaded on trains to China. Similarly, goods coming from China will be transported from Kouvola onwards to Haparanda and Narvik.
Depending on the type of contracts that companies have with their Chinese partners, the first goods could be transported between Norway and Sweden and China via Kouvola by the end of this year, according to Päivinen.
Trains from China to Finland have so far been filled with Chinese-made consumer products of all varieties, while bulk goods, raw materials, machinery and equipment have been shipped the other way. Food products, such as pork, have not yet been shipped to China because of counter-sanctions placed on them by Russia in response to EU sanctions over the Ukraine conflict.
"We hope that transit cargo would be exempted from sanctions and food products could be transported through Russia at some point," Päivinen told.
Silk Road hub in Northern Europe
The Kouvola-Xi'an route is part of China's Belt and Road initiative, which seeks to boost trade and infrastructure investment, including railroads, across Eurasia. China has so far launched similar routes to 42 cities in 14 European countries, with most of them passing through Kazakhstan, Russia, Belarus and Poland to destinations in western and southern Europe.
Although rail freight still accounts for a fraction of the total China-Europe trade, it is growing fast thanks to subsidies offered by China under its Belt and Road initiative. Last year, a total of 350,000 containers were transported between China and Europe on the main route through Poland and Belarus and that number is expected increase to one million by 2020.
While there may not be enough cargo from Finland alone to fill up more frequent trains to China, the city of Kouvola, which is the biggest railroad logistics centre in the country, seeks to benefit from growing demand in overall China-Europe traffic.
"The route through Poland is already full. Since there are only two main rail routes between China and Europe, we expect more traffic to be directed through Kouvola," Päivinen said, adding that besides Sweden and Norway the route could be attractive to companies in Denmark and elsewhere in Northern Europe.
With plans up to 2030 and beyond, the Finnish city has reserved a 300-hectare area for distribution centres storing products made in China, final-assembly factories, logistics companies and other related businesses. The expanded logistics area will also enable to load cargo on trains longer than 1,000 metres.