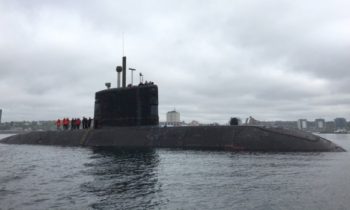 One of Canada's submarines has set off for Norway in its second attempt at the transatlantic crossing after being forced to turn around due to a mechanical problem.
The navy says HMCS Windsor left the port in Halifax at around 9 a.m. on Saturday to take part in a 12-day multinational exercise in waters off Norway.
The first trip was cancelled just over a week ago when a problem was discovered with one of Windsor's diesel engines.
The sub has backup systems, but the navy says it decided to return to port for a thorough inspection to be prudent.
Windsor has been busy — the navy says the sub has been at sea for 200 days over the past year.
Windsor is one of the four submarines that Canada bought from Britain in the late 1990s, but the vessels have been plagued with various mechanical problems.
(ctvnews)