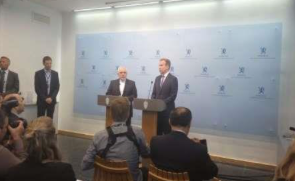 Iranian Foreign Minister Mohammad Javad Zarif said here Monday that Tehran and Oslo can have regional cooperation.
Zarif made the remark at a joint press briefing with his Norwegian counterpart Borge Brende.
Zarif referred to Norway's capacities of cooperation, calling for having interaction with that country in regional questions.
The two countries also can share experiences in the areas of oil, gas and fisheries, Zarif said while referring to valuable experiences Norway has got in those fields.
On nuclear talks that led to July deal known as the Joint Comprehensive Plan of Action (JCPOA), Zarif said Norway played an important role in reaching that agreement.
'Without Oslo, we could not reach an agreement on exchange of enriched uranium,' he noted.
Earlier, Zarif met with Brende in the Norwegian capital.
He arrived here on Sunday evening.