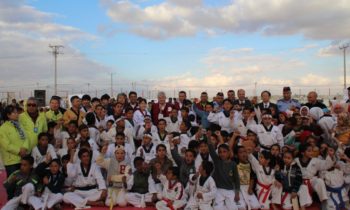 The Jordan Olympic Committee (JOC) has teamed up with the Norwegian Refugee Council (NRC) to introduce its Olympic values education programme to a number of young females during a week-long workshop at a United Arab Emirates-funded camp in Azraq.
The workshop educated participants about the Olympic Movement, the International Olympic Committee (IOC) and the work of the JOC, in a bid to highlight the role that sport can play in improving daily life at the camp.
Jordan is currently hosting an estimated 1.5 million refugees as a result of the ongoing Syrian crisis.
"The JOC has a vision for sport and healthy living to play a role in the lives of all Jordanians, but that also includes our guests who are staying with us during these turbulent times," said Narin Hajj Tass, JOC's knowledge, training and education department manager.
"By working with organisations like the NRC and others who are concerned about the well-being of our residents, we can all make a difference.
"Sport can help to improve the lives of people who have arrived with literally nothing but the clothes they were wearing.
"We target the youth so that their energy and spirit can cascade through the camp and encourage others to benefit.
"We hope they will be able to create their own initiatives to improve the social environment in the camp."
During the five-day workshop, presentations, interactive sessions and training lectures took place that are said to have linked Olympic values to daily life.
The youngsters were taught new skills and tactics in the hope that they will implement them within their own current situations to improve team work.
This is the second JOC workshop that has been held in cooperation with the NRC, an independent, humanitarian, non-profit, non-governmental organisation which provides assistance, protection and durable solutions to refugees and internally displaced persons worldwide.
The first one was held last year for young males in the same refugee camp.
Late last year, the World Taekwondo Federation (WTF) opened an academy at the Zaatari refugee camp in Jordan as part of a two-part pilot programme for its Taekwondo Humanitarian Foundation.
The camp, located 70 kilometres east of capital city Amman, was officially unveiled at a special ceremony, which was attended by WTF President Chungwon Choue.
Choue met with Prince Faisal bin Al Hussein, an IOC member and President of the Jordan Olympic Committee, who has previously called on the international sport community to help ease the plight of refugees, and build sustainable peace in Jordan and in communities affected by conflict around the world.