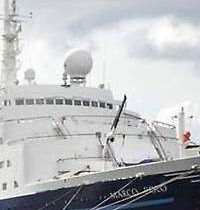 A Norwegian local resident told Norwegian broadcaster NRK he thought the cruise ship took a chance by sailing close to the rocky coast on its way into the quay. This Bahamas-registered cruise ship with almost one thousand British tourists on board that ran aground in northern Norway on Saturday managed to get free using its own engines and high tides, rescue services said.The 176-meter (580-foot) "Marco Polo" ship later docked at a quay in Buksnesfjord and seemed to "function normally," the services said.
"Marco Polo" was chartered by Britain-based Cruise & Maritime Voyages and was carrying more than a thousand people when it ran aground in the Lofoten archipelago early Saturday.
Two tugs boats and as many coast guard vessels tried to assist the ship.
There were no injuries, and no damage to the ship.