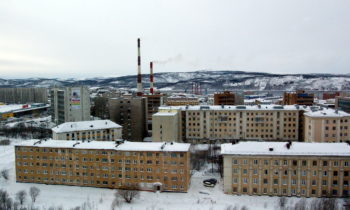 Despite a cold political climate, the United States and Russia cooperated on a secret September voyage with highly enriched uranium from Poland to Murmansk, Russia. Norwegian radiation authorities were not informed before the vessel sailed into Norway's economic zone. The head of Vardø Vessel Traffic Service, Ståle Sveinungsen, confirmed to the Barents Observer that the vessel Mikhail Dudin was carrying a load of highly radioactive material when it sailed along the coast of Norway two weeks ago."That is correct. The vessel entered Vardø Traffic Service's systems on the evening on Sept. 2 and sailed out again in the afternoon on Sept. 8," Sveinungsen said.
The position of the vessel on Sept. 15, posted on MarineTraffic.com, was in the waters just outside Atomflot in the Kola Bay.
The Mikhail Dudin came from Gdynia in Poland and sailed into Norwegian economical waters southeast of Kristiansand and left Norwegian waters east of the Varanger Fjord in the Barents Sea where she made a port call in Murmansk the day after.
The Norwegian Radiation Protection Authority is responsible for emergency preparedness and has, on similar occasions that occurred earlier, said it would like Polish or other authorities to inform Norway upfront of such potentially dangerous cargo on route along the Norwegian coast.
"Norwegian Radiation Protection authorities was informed the same evening," Sveinungsen said.
Concerns raised
A nuclear physicist with the Bellona Foundation in Oslo, Nils Bøhmer, is concerned about the fact that the agency responsible for radiation preparedness was not informed before.
"I'm deeply worried about that fact," he told the Barents Observer. He said that lack of information makes it very difficult to establish needed safety precautions.
Highly-enriched uranium can be used to produce nuclear weapons and the Americans responsible for the transport have on similar occasions earlier argued that fears of terrorism is the main reason why such cargoes sail without upfront notices.
The U.S.-Russian cooperation is a part of the global campaign to reduce the threat of materials that could serve to provide unwanted non-governmental groups or states with a nuclear bomb.
Without naming the voyage to Murmansk earlier in September, U.S. Energy Secretary Ernest Moniz told Reuters this week that "we have just moved more than 50 kilograms of highly enriched uranium from Poland, working cooperatively, to accomplish that."
Russian officials were not immediately available for comment on the shipment.
In Murmansk, the cargo vessel Mikhail Dudin makes port call to Atomflot, the harbor of Russia's civilian nuclear-powered icebreaker fleet, a few kilometers north of the city center. From Atomflot, the potential nuclear bomb material is transported by rail to Mayak in the south Urals.
The first time such nuclear cargo shipment took place outside the coast of Norway was back in 2009. Then, the Norwegian Radiation Authority was not informed about the cargo before being contacted by the Barents Observer.
(Alaska Dispatch News.)