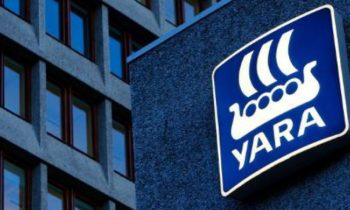 Norwegian fertiliser giant Yara officially opened its new import and bagging terminal at Ringaskiddy, Co Cork.
Opening the new terminal, Yara chief executive Svein Tore Holesther said he sees Ireland as an important market for the business.
"Irish farms are among the most productive in the world, but there is always room to improve," he added.
Nicholas Morrison, head of Yara's business in Ireland, said it had been a journey to Ringaskiddy for the world's largest producer of nitrogen.
He said that Yara's branded presence in Ireland was not well known, but that gave it the chance to grow.
Local service
He said locating close to the Munster and south Leinster region was an obvious choice given the strength of dairying there.
He said Yara will be offering farmers complex compounds on the NPK side, with an aim to sell 1m tonnes a year to 12,000 farmers.
Morrison added that despite being a global player, Yara understood it needed to be local to service farmers and that's why it had established the new terminal in Ringaskiddy.