US Air Forces in Europe (USAFE) has been preparing to base F-35 Joint Strike Fighters in the UK through a series of activities with NATO countries, its commander has said.
General Jeffrey Harrigian, commander of USAFE, Air Forces Africa, and NATO's Allied Air Command (AIRCOM), told journalists during a telephone briefing on 13 August that the deployment of a squadron of US Air Force F-35s to Europe "allowed us to integrate this fifth generation platform into various exercises and training sorties with our allies and partners.
These opportunities enhanced our overall ability to increase interoperability between US F-35s, allied F-35s, and fourth generation platforms, which ultimately will allow for seamless integration of our F-35s in Europe when they permanently arrive at RAF Lakenheath in 2021."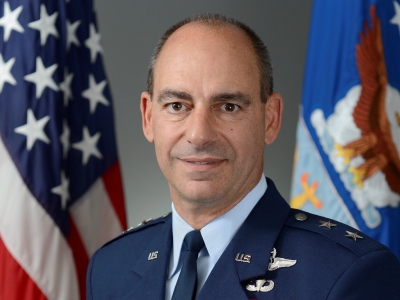 Below is a full rush transcript of the press conference by General Jeffrey L. Harrigian Commander, USAFE-AFAFRICA
General Harrigian: Thank you, Everything in USAFE-AFAFRICA revolves around our people with a focus on readiness, our posture and our partnerships. These three priorities support our National Defense Strategy and our friends and allies across Europe and Africa.
Readiness is the bedrock of our resilient and capable Air Force. By leveraging multi-domain cross-functional exercises aimed at maintaining a sharp combat edge, we are preparing our airmen for the most demanding military scenarios.
This summer, airmen across USAFE-AFAFRICA have been engaged in a variety of exercises that are integral to enhancing our readiness and partnerships throughout our area of responsibility. In particular, this summer, the Air Force deployed a squadron of F-35s to Europe as part of a theater security package. Having F-35s on the continent allowed us to integrate this 5th generation platform into various exercises and training sorties with our allies and partners. These opportunities enhanced our overall ability to increase interoperability between U.S. F-35s, ally F-35s and 4th generation platforms which ultimately will allow for seamless integration of our F-35s in Europe when they permanently arrive at RAF Lakenheath in 2021.
Specifically, there are two major events that allowed us to integrate the F-35. The first being Astral Night. Astral Night was a joint multinational integrated air and missile defense exercise that involved the U.S., Italy, Croatia and Slovenia. The exercise allowed us to practice integrated air and missile defense for the first time in Europe and was a massive success.
Additionally, we made enormous progress with our Italian F-35 counterparts by advancing the F-35 programs for both the U.S. and Italy through interoperability missions over European airspace. Continuing opportunities to operate this platform together paves the way forward for integrating 5th generation assets into multi-domain operations across the globe.
Our second major event was Operation Rapid Forge. So Rapid Forge was an exercise that was USAFE-led and a mission that enhanced our ability to function at locations other than our main operating bases. During this operation we demonstrated our ability to rapidly deploy F-15Es and F-35 aircraft out of Spangdahlem Airbase to forward locations in Poland, Estonia, Latvia and Lithuania.
By executing these operations, we were able to execute the dynamic force employment, demonstrating our ability to flexibly use forces and respond to contingencies while making our activities operationally unpredictable to our adversaries. Not only did this operation improve our readiness but it also increased the interoperability of the force and enhanced relations with our allies and partners.
USAFE-AFAFRICA faces a dynamic and challenging operational environment that requires us to adapt and create a resilient command and control architecture to meet the military needs of today and tomorrow. This environment is shaped by numerous ever-changing demands, and these changing demands cause corresponding adaptations in our National Defense Strategy — a strategy that has focused on countering violent extremist organizations to one that also deters near peer competitors.
We are postured and ready today to compete and are working to disrupt the adversaries' decision cycle. We leverage our command and control architectures to enhance the resilience of both NATO and our coalition partnerships. This allows us to delegate execution of operation with plans to seamlessly operate in an integrated command and control environment. However, we could never be ready and postured to respond in Europe and Africa if it weren't for the strategic relationships we have with our allies and partners.
Because of these relationships, we're able to undertake exercises and operations that increase our overall readiness and posture across our two theaters. Specifically, in Africa we continue to build and enhance partnerships across the continent through events like the African Partnership Flight and the African Air Chiefs Symposium, both of which will be taking place in the very near future.
Building partnerships is a journey and these two premier events in Africa that continue year after year enhance our relationships, capabilities and ensures that we build trust and confidence across our teams.
I remain focused on continuing the momentum we have built to leverage those relationships with our partners and allies, to ensure their capabilities and expertise enhances the readiness, posture and air capabilities provided by USAFE-AFAFRICA.
The challenges of today and tomorrow require that our airmen be ready to respond as a joint coalition and multinational team in a multi-domain environment. I'm committed to ensuring that our airmen have the resources they need to effectively carry out the mission, compete and win. Our airmen are creative, adaptive, and capable of rapidly making decisions, and it is our people who are enhancing our readiness posture and partnerships every day.
Lastly, I would like to thank each and every one of you for what you do every day. I know as journalists you bring transparency, accountability, and connect our Air Force with the American people, your people, and our international audiences. You allow us to share our successes, challenges and the remarkable men and women that make up our Air Force.
Thank you for your time, and I look forward to any questions you may have. Back to you, Vanessa.
Question: President Trump announced earlier this summer that the U.S. will send upwards of 1,000 troops to Poland from Germany. Do you expect to see an expansion of the U.S. Air Force mission in Poland? And if so, when, where, and by how many airmen and/or aircraft?
General Harrigian: I think it's important that we recognize how strongly we value our partnership with our Polish teammates, the nation and its armed forces. It's important as you look back in history to understand that we share a deep bond that culturally ties us together with our shared values and importantly, from an operational perspective, we have our shared experiences in both Afghanistan and Iraq.
Right now, in Poland the U.S. Air Force has a presence that includes an aviation detachment operating out of Lask. This is where we are training Polish C-130 pilots and their maintainers, along with F-16 fighters that operate out of there on an episodic basis.
Further, we have an MQ-9 detachment that's down in Miroslawiec Air Base which is responsible for providing ISR. Right now, that det is actually down in Romania due to some construction that is ongoing with the runway at Miroslawiec.
At this point we continue to support our regional partners with these operations but the department has not made specific decisions on the exact locations or mission sets that could deploy to Poland. We are working closely with our partners to continue these discussions moving forward, and we continue to greatly appreciate the offer. We look forward to working with them as the decisions are made, but at this point it would be appropriate to direct the specific questions back to OSD who has the next level of detail.
Question: In the last two years the U.S. and Greece have been strengthening their strategic cooperation. Is there any possibility in the near future to expand bilateral agreements between the two countries?
General Harrigian: I think as we view Greece, it's important to look through the lens of the valued partner that they are to us and the strong commitment that collectively we have to regional security in the Mediterranean and the Black Sea region. We will always continue to look for opportunities that allow us to strengthen our defense relationship and we do that primarily through joint exercises and training, very similar to the exercise that we executed with them this past year, Iniohos.
I can tell you personally that I've met with the Chief of Defense and the Air Chief and we are taking diligent steps to the planning for the exercise that will occur in 2020, the next iteration of Iniohos, where again we will work closely with our Greek partners to focus on those tactics, training, and exercises that we do to enhance our ability to operate together.
Question: The NATO Secretary General said in his press conference held for the INF withdrawal that he raised the possibility of combat aircraft having a role in ballistic missile defense, but I'm not quite clear what that means. It could be ISR, I suppose. I doubt it would be shooting down missiles, but the other possibility that comes to mind is maybe counter-force, basically hitting missile sites.
And then on alliance ground surveillance, there seems to have been a delay there in the operational capability. So when is the IO, the initial operational capability planned now? And when is the full operational capability planned for AGS?
General Harrigian: Thanks for that. Let me first discuss a little bit about missile defense across NATO and clearly, the Secretary General's point here is given the withdrawal as he views the threat and we go forward here, the focus has been largely on ballistic missile defense and how we defend our nations in particular from those particular threats out there. As we look forward to integrated air and missile defense, this is where collectively, again from a defense perspective, we would leverage combat aircraft that would be integrated to a broader system of systems that would allow us to ensure as we look at potential threats that are being developed, as you look 360 around the NATO area of responsibility, that we would need to be prepared to defend ourselves. So clearly we want to leverage every sensor that would be available to us and those sensors would naturally include combat aircraft.
So as nations continue to refine those capabilities, the goal would be to integrate those into that family of systems that allows us to have the appropriate indications and warning, that then would facilitate our ability to defend ourselves and appropriately be postured to protect all those that would be considered an area that we would be responsible for. So that's how I would see that moving forward.
Relative to your air-ground surveillance question, we continue to plan for the IOC. That date has not changed. We're continuing to stay focused on that. And while there naturally are challenges in any acquisition program, I think there's been great work done in terms of the relationship with the defense contractors, and we continue to stay closely aligned with them to share information so as being able to achieve that IOC and ultimately the FOC dates that we've published.
Question: One thing is the ongoing Russian naval and air operations in the North Atlantic. Some experts believe the scenario the Russians are training for is how to cut off the supply chains between Europe and the U.S. over the Atlantic. How would you characterize the ongoing Russian operations in the North Atlantic? The second one is, how important do you consider the Norwegian air base at [Andøya] to be for enabling a satisfactory allied air presence in the Arctic and North Atlantic?
General Harrigian: The first one I would respond to you with the observation that clearly the activity that the Russians have had ongoing, the exercise that they've been pursuing here over the last couple of weeks has been one that we've been closely monitoring and continue to ensure that we are postured appropriately for our defense, and in this situation have leveraged it to gain a better understanding of their participation in operations up there and their attempt to leverage both maritime and air activity.
So I would offer to you that this has demonstrated to us that we are in a good position to gain the appropriate indications and warnings of their activities while at the same time using this exercise, at least from our perspective, to be in the appropriate position to monitor the activities and appropriately defend ourselves should that situation ever arise.
That really is how we're viewing it and we're going to continue to watch this and use this as an opportunity for us to understand how they're envisioning any of their potential operations up in an area that is critically important to all of us, that region being the Arctic and up there in the North Sea.
And let me segue into your question on the Norwegian air base. First I would tell you that the Norwegians are a tremendous partner to us and our work, particularly as it relates to interoperability with the F-35 and the leveraging of their facilities for our collective defense has been nothing short of outstanding. And what I would highlight to you is that in this last couple of months we've actually done some interoperability work with our Norwegian partners whereby we've taken F-35s up to Norwegian air bases and had the Norwegians actually service our airplanes and turn them and then get them back in the air. I think that is a tangible demonstration of the interoperability that the F-35 brings to our collective force in NATO.
Question: Recent research told British Broadcasting last week that NATO is provoking Russia with big exercises after Trident Juncture last year and also American soldiers on Norwegian soil. How do you see the potential for a crisis in the Arctic region as the situation is now with Russia?
General Harrigian: As I mentioned, the Arctic remains a critically important area for all of us, and the goal for I would offer to you every nation is to keep that area secure, keep it stable and ensure that we have the freedom of navigation and passage that is required for all nations.
In support of that, we remain closely aligned with our Norwegian, and actually probably better stated, our Nordic partners that are great partners for us as we continue to monitor all the Russian activity that is ongoing.
As I've said, this latest exercise has been one that we've closely monitored over the course of the last couple of weeks and as you stated, it's ongoing. And I would tell you that our awareness and ability to track all that activity is very good. We've been in a very good position to ensure that we have our forces properly postured.
At this particular point, I'm not at all concerned about escalation. I would tell you that our airmen are highly trained. They understand specifically what our mission set is there in terms of executing air policing and how we do that.
Concerning any provocation of the Russians and what that might mean from a Russian perspective, I would tell you that our goal is to be prepared to defend ourselves and deter any Russian activity, and I would offer to you that our demonstrated ability to provide the defense through the exercises that we've executed over the course of the last several months has demonstrated that we're here to defend ourselves and deter, with all of us having the ultimate goal of ensuring the stability and security of the region for all the citizens that live in and across not only the Nordic region but also here in Europe.
Question: Should France and Germany join Team Tempest? And perhaps you could also provide some context about Team Tempest.
General Harrigian: Certainly. Well, I can't get into the specifics of exactly what the UK is doing with Tempest, I do know that it's intent on building a next generation air dominance-type platform and frankly, from my perspective, there is huge value in seeing our partners and our allies and particularly the important partners that are looking at joining this team investing and developing capabilities that ultimately will provide in the defense of their nations and across Europe.
Ultimately, those capabilities will be interoperable with the team of nations that are invested in defending Europe and from a U.S. perspective in particular, I certainly desire the competition that this will drive in terms of delivering capabilities that will ultimately improve and facilitate the ability of our warfighters to compete, deter and win should we have to in any type of situation.
So at the end of the day this program, and developing capabilities that will enhance the capabilities of our coalition, I think is incredibly important and will in the future facilitate interoperable tactics and procedures that will facilitate the defense of Europe and this region.
Question: It's Jennifer, Stars and Stripes. And my question is about Turkey. I was wondering, have you seen any moves by Turkey to restrict or limit U.S. access to Incirlik given Turkey's removal from the F-35 program and the threat of economic sanctions by Washington? Is it something that you're planning for or concerned about?
General Harrigian: At this point we remain very focused on our military-to-military relationships, and those relationships remain very strong. Having just talked with my wing commander at Incirlik, his relationship with the Turkish wing out there remains incredibly strong and they continue, the Turkish Air Force continues to support us in great fashion.
So at this particular point I have no worries whatsoever about any impact to our operations there at Incirlik, and frankly, I look forward to continuing to work through the situation, recognizing there will be some overarching, more broad, political issues that will be worked at that level. But at our level, at the military level, we remain very close with our Turkish partners and I see no change in that going forward.
General Harrigian: I would just like to thank again the team for being on the phone today. As I highlighted at the beginning here, we are really focused on ensuring that through our people we're in the proper readiness position along with the appropriate posture. And as I highlighted today, the importance of partnerships and the relationships that we have across the region, whether it be in Europe or down in Africa remain the bedrock of how we do business.