The United States will not invite Russian observers to visit NATO-initiated Defender-Europe 20 military drills in Europe as it is not hosting the exercises, Maj. Gen. Andrew Rohling, the deputy commanding general of the US Army Europe, said on Wednesday.
The drills are set to take place across 10 countries and envision the biggest deployment of US military forces to Europe in 25 years. The exercises expect to involve 37,000 allied troops from 18 nations, including 20,000 US servicemen.
"And so to maintain maximum transparency, host nations can invite representatives from OSCE [Organization for Security and Co-operation in Europe] to participate and observe the exercise and to confirm their defensive nature. The United States Army will not invite Russian observers onto any other host nations' soil. That is the the role of each individual country that is participating to invite any Russian observers," Rohling told reporters via a conference call.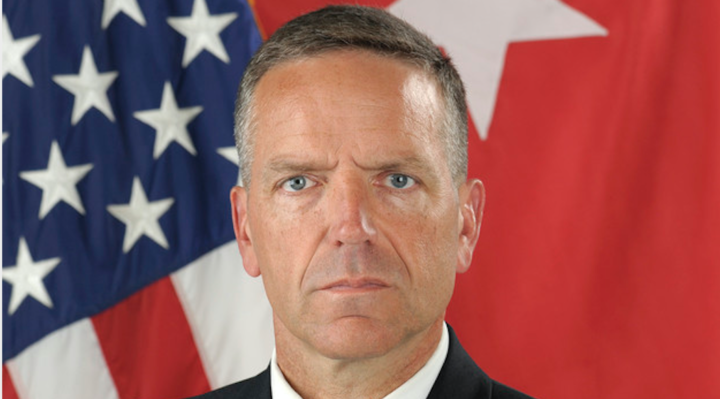 Below is a full rush transcript of the press conference by Major General Andrew "Andy" , Rohling Deputy Commanding General, U.S. Army Europe.
Major General Rohling: I am Major General Andrew Rohling. I am the Deputy Commander of the United States Army Europe. I want to thank you for taking the time this morning to talk about DEFENDER-Europe 20.
The last time that we, the United States Army Europe, spoke to you, you heard from Brigadier General Sean Bernabe, our G3 operations officer, on what DEFENDER 20 – DEFENDER-Europe 20 is, and so today I'd like to kind of talk a little bit more about what we've done so far.
As you know, DEFENDER-Europe 20 is the largest deployment of U.S.-based forces to Europe in an exercise for more than 25 years. The purpose of DEFENDER-Europe is to exercise the U.S. military's ability to deploy a large force of personnel and equipment from the Continental United States here to Europe – and, alongside our NATO partners and allies, quickly respond to a crisis.
As the name suggests, DEFENDER and its linked exercises are defensive in nature. They are not directed towards any one country or specific threat. This is about building our collective capabilities as a nation, and as part of the NATO Alliance, to respond to a crisis.
DEFENDER-Europe 20 will send a clear and unmistakable signal that the United States is committed to NATO and the defense of the European homeland.
It is not just a U.S. exercise. DEFENDER-Europe 20 relies on the support of the entire Alliance and we will build a whole-of-Europe readiness and interoperability.
As U.S. soldiers began arriving at the airports and ports across Europe in the middle of February, their equipment had entered via multiple seaports in Belgium and Germany. These sites, along with other seaports, serve as the logistical hubs for DEFENDER-Europe 20.
These personnel and their equipment have begun to move through multiple countries to arrive at training areas across Germany, Poland, and the Baltics, where they will join other NATO allies and partner militaries to conduct various linked training exercises.
For some details, currently 15 of 27 air missions have brought approximately 3,500 of about 17,000 U.S. soldiers to Europe. Four of 10 vessels have arrived into theater with three more currently in transit between the Continental United States and here. These vessels have brought approximately 2,700 of about 18,000 pieces of equipment here to theater. We've currently – we are currently executing 51 convoy movements through Germany and Poland, and completed one of four Army Prepositioned Stock draws of about 1,400 pieces of equipment.
Though our focus has been on DEFENDER, we are closely monitoring, of course, the current situation with the COVID-19 virus and its potential effect on all of us. At this time, there are no U.S. soldiers, families or members or civilian employees affected by the virus, and it has not impacted the execution DEFENDER 20 at this point, although we are closely monitoring the situation and working with our host nation partners to make sure our policies with those of our host nations and work to prevent any spread of the virus.
Question: You mentioned so far no sign of it affecting DEFENDER. Could you talk about – I mean, it's a fluid situation and there are signs that it's expanding all over the place. Are you guys involved in contingency planning, looking at options to alter the exercise should it expand more deeply into places like Germany and Poland?
Major General Rohling: Sure. So just to make sure, the DEFENDER 20 plan in itself already had a robust medical support for all its exercise participants. But in light of, as you say, the – where it's going today, the United States Army, USAREUR, staff, we are in fact war-gaming public health and medical support plans to identify any potential changes or anything else we need to address, and most importantly, we're tied very tightly with each of the host nations and what they're conducting and their requirements across Europe.
Question: What U.S. armor units will participate in the exercise with Trophy active protection systems and what other new kit will be used for the first time?
Major General Rohling: Sure. So the Trophy equipment is coming out of the – the equipment is coming out of the Army Prepositioned Stocks in Germany, and it has already moved to Bergen-Hohne. The unit that will exercise that is the 116th, the Army National Guard from Idaho, and they will be conducting the installation and initial training exercises on that.
As far as other equipment that's being trained, we've got a number of small pieces of equipment. The biggest is really going to be our – is conceptual training with new equipment that'll happen during the Joint Warfighting Assessment in late April at Grafenwoehr, where we will train the concepts for new equipment and new doctrine that the Army is trying to do as part of its modernization efforts.
Question: Have you invited Russian observers to the drills, and if so, did they accept the invitation?
Major General Rohling: DEFENDER 20, Europe 20, was planned and executed in full compliance with all of our applicable conventional arms control agreements, so the Conventional Armed Forces in Europe Treaty, the Vienna Document – the Vienna Document on confidence and security-building measures, and the Open Skies Treaty. We have provided the appropriate Vienna Document notifications in November of 2018 and again in November of 2019 to all 57 participating states within the Organization for Security and Cooperation in Europe, to include the Russian Federation. And so to maintain maximum transparency, host nations can invite representatives from OSCE to participate and observe the exercise and to confirm their defensive nature. The United States Army will not invite Russian observers onto any other host nation's soil. That is the role of each individual country that's participating to invite any Russian observers, but we have been quite open and transparent in that.
Question: I'm just looking at illustrations of the troop movements, and it doesn't appear that any of the paths include Luxembourg. Is there any involvement in Luxembourg territory or personnel in this?
Major General Rohling: I'm just reviewing my map one more time to make sure that I can – I agree with that. I think you are correct. I do not see us driving through Luxembourg at this time, but Luxembourg has been a good partner in all the things that we've been doing in planning and other assorted maneuvers as we've transited in the past as part of Atlantic Resolve and other assorted activities. But to my knowledge, we are not, in fact, using Luxembourg as a transit route.
Question: Can you talk in more detail about the 'joint forcible entry phase?' Should we understand this as a power projection or reinforcement operation in an A2/AD-shaped environment or as a sort of REFORGER in an A2/AD environment?
Major General Rohling: Sure. Thanks for that question. So the joint forcible entry portion of this is what is going to be known as Swift Response in the past; it'll be a consolidation of airborne forces in Ramstein, Germany, and then we will conduct an airborne operation in Latvia, Lithuania, and into Georgia. So it's multinational in terms of the paratroopers, multinational in terms of the aircraft being used, command-and-controlled by a United States airborne division, and it'll exercise the command and control over distance of multiple drop zones and soldiers. And then, of course, the current A2/AD environment and capabilities has definitely been taken into consideration as we planned this exercise.
Question: I would like to ask concerning the preparation and conduction of the exercise?
Major General Rohling: we, in fact, have seen disinformation. We were expecting some, exactly. To make sure that we're in tune to that, we have established a joint information center here at our headquarters that monitors open-source press and other – and open-source webs and other assorted media, and we've been attempting every time we catch wind of it to quickly assimilate it and put out the truth as opposed to misinformation that – and where it's coming from.
Question: Will there be any Lithuanian seaports used in DEFENDER 2020?
Major General Rohling: Thank you for the question, Andrius. No, there will not be a Lithuanian seaport during this exercise.
Question: This exercise itself is impressive, but it reminds us, unfortunately, of the times of the Cold War and how the nature of warfare has crucially changed since then. As we see in Ukraine, an enemy that does not use open combat and prefers to use hybrid techniques, which are impossible to deal with via traditional military means, can be a challenge. What are you going to do, General, if there are 'little green men' who engage in some kind of operation within the European theater?
Major General Rohling: So this exercise is not exactly designed for that threat in mind. This exercise is designed around the strategic readiness of the United States and its allies to move from the United States, here to Europe, to counter more of a conventional crisis. So, admittedly, that's not the scenario that we're attempting to train in the larger picture of DEFENDER-Europe 20.
However, inside of DEFENDER-Europe 20 is our Joint Warfighting Assessment that we'll be conducting in our command post exercise at Grafenwoehr, Germany, where we are hoping to train the larger units at the corps and division level in warfare as we see it in the year 2028. So those things that you're talking about and have experienced in the Ukraine will be part of that scenario at the command post exercise, but not as we train in the large picture of ground maneuver here in DEFENDER-Europe 20.
Question: I have two questions. The first is on coronavirus. What if any soldier would be affected by this disease ? What kind of measures is Army Europe going to take? can you give me an approximate number of the soldiers which will be in Poland during DEFENDER-Europe 20? Thank you very much.
Major General Rohling: To your first question is, what are the measures that we will take with the coronavirus? So we are – so currently, as I stated in my opening statement, no significant operational impacts right now in DEFENDER-Europe 20 due to the corona 19 situation. The reception, staging, onward movement, and integration – RSOI – for this exercise is already underway and all of the planned seaports and airports remain operational and the borders remaining open. Within the USAREUR area, only Georgia and Israel have enacted travel restrictions that ban arrivals from Italy, and these restrictions right now have no impact on DEFENDER-Europe 20.
While you're right, positive cases are increasing across Europe, we're monitoring this closely and in coordination with our allies and partners, the DEFENDER-Europe 20 plan already provides a robust medical support for exercise participations. But in light of this situation, we are working and war-gaming public health and medical support plans to identify any shortfall we might have and we're addressing those shortfalls and/or requirements with each individual host nation and in coordination with their larger defense plans and their issues so that we're tied in tight. So in your case, we're tied in with what Poland is going to do and making sure that we're part of that plan, not a separate entity, so for the safety of our soldiers and for the safety of Polish citizens.
As to the total number of soldiers in Poland itself, the total number of soldiers from the United States is going to be somewhere in the realm of 19- to 20,000. To be honest with you, Rafal, how many of those specifically are in Poland, if I was going to give you a guesstimation, or an estimation, I think we're sitting in the realm of right around about 7- to 10,000 of those will be in Poland itself.
Question: how do you address the challenge of the particular capabilities of potential adversaries like the recently developed or tested cruise and ballistic missiles? Do you believe in the hyper hype – the hype of the hypersonic weapons, especially those missiles can be fired from small ships and mobile surface platforms? So how do you address those challenges in the exercise?
Major General Rohling: Those are exactly the sort of capabilities and things we're going to exercise in the Joint War fighting Assessment that happens in the command post exercise in – at Grafenwoehr, Germany, in the end of April. So in terms of the larger manoeuvring that we're going to do in DEFENDER as far as the tanks manoeuvring across Europe or into the training areas in Germany and in Lithuania, that is not part of that exercise but it is absolutely a part of the command post exercise called Joint Warfighting Assessment.
Major General Rohling: First, thank you, everyone, for your interest in DEFENDER-Europe 20. We continue to believe that this is a very important exercise not only for the United States but for all of our European partners and allies. We're very appreciative of each nation and what they've contributed, and we are looking forward to a great event, a great learning event that will help strengthen the security of all our nations.