Military officials say the 47th BALTOPS, which ends Friday, aims to improve teamwork among allies and partners while presenting a united front to Russia, which closely watches NATO activities in the Baltic Sea.
The exercise is taking place throughout the Baltic region, including in an area not far from the Russian exclave of Kaliningrad. The participating nations brought 50 ships, 40 aircraft and more than 8,500 personnel to the Baltic Sea, but officials said the exercise isn't meant to escalate tensions.
"We are very aware of the difference between deterrence and provocation, and we're not interested in provoking anyone," Vice Adm. Andrew Lewis, 2nd Fleet commander, told reporters at the start of the exercise.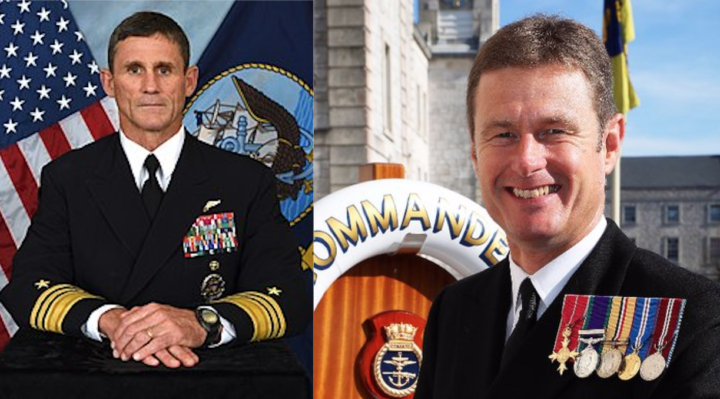 Lewis and his staff are overseeing BALTOPS from the 6th Fleet command ship USS Mount Whitney, while coordinating with U.S. Naval Forces Europe.
BALTOPS comprised 389 different activities this year, almost four times more than last year, Navy officials said.
The exercise included several training staples. Warships fended off simulated attacks from smaller, faster vessels; crews practiced anti-submarine warfare and mine countermeasures; aircraft and ships worked together to protect the air and sea.
Meanwhile, U.S. Marines teamed up with other militaries to launch multiple amphibious landings across the region. One simulated assault happened while live artillery rounds were fired at a safe distance.
Below is a full rush transcript of the press conference by Vice Admiral Andrew Lewis Commander, U.S. 2nd Fleet; Joint Forces Command Norfolk and Rear Admiral Andrew Burns Commander, United Kingdom Maritime Forces.
Vice Admiral Lewis: My name's Vice Admiral Lewis, Commander of the U.S. 2nd Fleet and Commander of BALTOPS 2019.
With me today is Rear Admiral Andrew Burns, Commander of the UK Maritime Forces and my Deputy to BALTOPS.
It's our belief that we are here almost two full weeks after the beginning of the exercise. BALTOPS focus is on strengthening our partnerships. A key component in ensuring the multinational exercise is a success. No one nation can face today's challenges alone, and we are stronger together. Together our partners and NATO Alliance will continue to strengthen our deterrence and defense efforts by improving our collective readiness and responsiveness.
The impressive display of professionals from 18 nations — 16 NATO allies and 2 partner nations; more than 8,600 personnel participating with 50 ships, 36 aircraft and 2 submarines. BALTOPS 2019 was an opportunity to work together and integrate our forces in order to display the collective commitment to maritime security in the region.
During this exercise there were numerous examples of integration and action. A specific day that comes to mind is our Distinguished Visitor Day, highlighting amphibious and air demonstrations that took place this past weekend on the beach in Lithuania. It was a remarkable demonstration of the essential partnerships we seek to build between military professionals.
We had Romanian Marines coming ashore off, Polish amphibious transports; American Marines and Spanish Marines assaulting the beach from the same landing craft; a UK Merlin helicopter and a Spanish Sea King helicopter conducting and demonstrations on the teach in tandem as a wave of British, U.S. and Spanish Marines assaulted the beach simultaneously. It was a powerful demonstration of partners working together as professionals to optimize their presence in the region.
Although this was the 47th iteration of BALTOPS there were quite a few firsts this year. The United States 2nd Fleet was reestablished and took the reigns as Commander of Baltic Operations. We had an increased focus on mine countermeasure operations. It was quite successful as German, Norwegian, Danish and U.S. sailors in a Mine Warfare Task Group came together to clear nine World War II era bottom mines, giving our team the opportunity to put their skills to the test. And we're clearing two additional mines today.
Principals from the NATO Amphibious Leaders Expedition Symposium, NALES, were trained [for the first time]. NALES focuses on developing multinational command and control of an amphibious task force level capability, allowing the coordinated command and control of naval and amphibious forces across different nations' amphibious forces. BALTOPS was the first opportunity to evaluate these multinational command and control constructs, and it was executed well.
Also the Joint Force Maritime participated as an amphibious task force commander during BALTOPS 2019. JEFM is UK led. A joint force that can be stood up in any environment. It can support numerous tasks from combat operations to deterrence to humanitarian support.
BALTOPS is voluntary in nature with each year being shaped by individual country force offerings. This year we were fortunate to welcome to the exercise the Spanish flagship Juan Carlos Primero, an amphibious assault ship with seven Spanish AV-8B Harriers and three AH-3 Sea Kings, significantly increasing the number of maritime based fixed wing aerial events for training.
This exercise marks the first time a Hellfire missile was fired into a training range in Lithuania, thanks to the coordination between BALTOPS planners and the Lithuanian government. We also hosted the Lithuanian Air Force Helicopter Sea Combat Squadron, Detachment 1 on board our flagship USS Mt. Whitney for helicopter deck landing qualifications. This was an invaluable opportunity to establish the foundation for helicopter operations on air-capable ships.
These are just a few examples of the exciting firsts we experienced during BALTOPS 2019. The more we operate together, the more opportunities we have to integrate our forces and expand their capabilities across the coalition.
We shared BALTOPS focus on reinforcing and enhancing existing partnerships among our militaries, showing presence and protecting our combined maritime power while always adhering to international laws and operating as professionals.
As we have done for 47 years, we will continue to carry out various maritime operations while strictly adhering to international rules and norms.
This training has no target or enemy, but rather is to demonstrate that NATO allies and partners can and will defend against any adversaries. By training together we enhance our interoperability and we show our collective commitment to deterring potential adversaries while ensuring our shared strategic interests are preserved. Together we are part of the strongest military alliance the world has ever known. This is why we must continue to integrate operations amongst NATO allies and partners to contribute to the security of the globe on behalf of our nations.
Question: My question is to the Vice Admiral, Andrew Lewis. Sir, a question to the information you just gave us. The most part of the operations which the allied force was trained for during BALTOPS operations were offensive operations like SAMs, et cetera. So do you consider that Russian forces on the other side of the Baltic Sea should consolidate its defense when such operations and training of NATO forces are held in the Western part of the Baltic Sea? Thank you very much.
Vice Admiral Lewis: I think we were operating in the Baltics under three tenets. Under partnership, presence and professionalism. So our partners in the region, our partners in NATO, we were operating with them, present, operating on the high seas and in the air over the high seas in international water and airspace in a professional manner. And all those in the region are certainly expected to do the same. There's no, as I stated up front, there's no, it was an exercise to operate together, integrate together, and with the forces that were in the exercise but not aimed toward anyone else, but it was just to operate on the high seas in this region, which is a very unique region of the world.
Question: According to the Lithuanian Ministry of National Defense, more than 80,000 naval miles and other explosives placed during World War I and World War II are estimated to still be underwater and pose a threat to individuals working on and in the Baltic Sea. How can you find a solution to this? Or is it only going to be part of history? Will the U.S. start cleaning up the sea area with the help of other NATO members?
Vice Admiral Lewis: First of all the U.S. and NATO has an organization called the Standing Maritime Group that does Mine Countermeasures. They operate in the Baltic frequently and were a part of BALTOPS this year and will continue to be a part of BALTOPS in the future.
What we were able to do this year was apply some new capabilities in finding these mines and disposing of them. We found in excess of ten unexploded mines from the 2nd World War and that have been disposed of now. Another two today.
I'll let Admiral Burns comment on this because of his nation's Navy has quite a bit of experience in the region and quite a bit of experience he has personally in this area of warfare.
Rear Admiral Burns: The only thing I would add is that the Royal Navy participates in the Standing NATO Mine Countermeasures Group, which operates regularly in the Baltic. And part of the program is directed tasking which is specifically to hunt and dispose of historic ordinance.
Obviously, we've achieved some progress during this exercise, but it's going to require a concerted effort to continue to reduce the numbers from the 80,000 that are indicated in the question. We're not going to be able to do that quickly, but we are determined to make inroads into that number.
Question: Considering you've been operating in the Baltics, and I know this exercise you say isn't looking at any one specific person in particular, one specific nation state that might be, but it's close to the Russians. So I'd just be curious to know how credible a threat you feel the Russians are today, and whether they're just saber rattling; and more to the point, how do you think Moscow views these in the Baltics?
Vice Admiral Lewis: I'll defer to Admiral Burns first.
Rear Admiral Burns: I think as a Baltic state we would expect Russia to operate in the Baltic region and of course we've been operating alongside Russian units throughout the exercise. And as we've been operating in a professional manner, so have the Russians. And of course they would recognize the importance of this region to their economy and their prosperity. As part of the superhighway of the high seas upon which our individual and collective prosperity depends, I think we share an interest in maintaining security in this region.
So I'm not surprised that Russia has been operating and exercising which is entirely within their right to do so, as we have been doing. And what they've been doing has been within national norms, which is precisely what we are here to demonstrate and uphold.
Vice Admiral Lewis: I would just add that operating in the Baltics during the exercise and operating with other regional nations in the Baltics, it's been with [inaudible] success in professional and safe interaction. What I perceive is rather than a provocative nature, it's actually a nature of which it's lending stability and security to the region. It's very obvious that it's to everyone's benefit and the stability of the regional nations have an obligation and a right to patrol the high seas and that's expected. But it's actually, I believe, is a stabilizing effect in the Baltics, not a disruptive effect.
Question: Reestablishment of the 2nd Fleet in 2018 was a clear response to Russia's military assertive behavior. Is the Baltic Sea a primary area of responsibility in this regard? Do you consider the fleet capabilities' deployment in other areas, for instance in the framework of increased NATO naval presence in the Black Sea?
Vice Admiral Lewis: The 2nd Fleet was reestablished in August of 2018. And reestablished in order to operate in the Atlantic, from Norfolk, Virginia in the Atlantic and into the North Atlantic and potentially into the Arctic. And the approaches of the Baltic and the approaches of the Mediterranean.
Now as a maneuver arm, a maneuver fleet, the 2nd Fleet can be employed wherever directed to be employed, but not, in an expeditionary fashion. That's exactly what we've been doing during this exercise.
Could it be that we are employed other than the areas I just mentioned? Certainly. But not by design specifically to operate anywhere other than the areas that I mentioned. Really just in the Atlantic and the reaches into the Arctic.
Question: Was NATO being in the Gulf region ? I mean The security of the Gulf region ?
Vice Admiral Lewis: I can tell you that NATO and a very large coalition is operating in the Persian Gulf region and in the Arabian Sea and has consistently for a number of years and will continue to do so in the same manner that we're operating here in the Baltic and throughout the world to ensure sea lines of communication and to ensure operations in accordance with the International Law of the Sea.
Vice Admiral Lewis: I just want to reemphasize the positive nature of this exercise and how I personally learned an incredible amount from our allies and partners and those who live and work around here. So it's quite a pleasure to be here, and I think it goes a long way towards stability in the region. Thank you very much for your time.