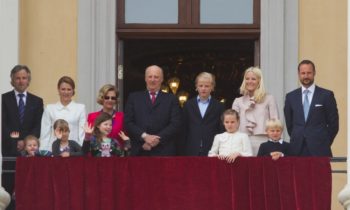 Every royal family has its own traditions. The Norwegian Royal Family celebrates Christmas in a unique way. They blend the ancient Norwegian Christmas traditions with Christmas traditions they have brought with them from their family from Denmark, Sweden and the United Kingdom.
In Norway, there are several traditions on what to eat for dinner on Christmas Eve. The eastern part of the country eats Christmas ribs, the western parts of the country eats dried lamb, and the northern part of Norway eats cod. The Norwegian Royal Family eat none of the above. They have adopted a Danish Christmas tradition and eat grilled baby-pork on Christmas Eve. This is a tradition the Royal Family has never broken and originated from King Harald's grandfather, King Haakon VII, who was Prince of Denmark before he was elected King of Norway in 1905.
In 2011, the King and Queen invited a number of Norwegian artists to hold a private Christmas concert in the castle chapel at the Royal Norwegian Castle in Oslo. The concert was filmed and shown on the state television channel NRK.
The Norwegian Royal Family do not celebrate Christmas at the castle in Oslo. There is a long tradition that the nation's King and Queen always celebrate at "Kongsseteren" (English: The Kings Shieling). This is one of the King's private residences, located in Holmenkollen, which is a very exclusive residential area about ten minutes by car outside the Oslo city centre. The building was finished in 1910 and was given as a gift from the Norwegian people to King Haakon VII. The building was built as one would build any Norwegian farm in the 1700s. This building provides a very traditional Norwegian atmosphere, and the estate is always decorated for Christmas after Norwegian peasant-traditions.
Crown Prince Haakon and Crown Princess Mette-Marit usually celebrate Christmas with the King and Queen in Oslo, but sometimes in the last few years, they have celebrated alone with their children at their private cabin located in the Norwegian mountains. Princess Märtha Louise has celebrated with her father and mother in Oslo when she has not spent Christmas with her family in her private villa located in Oslo.
(royalcentral)