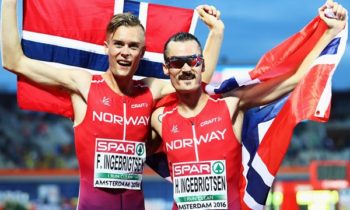 An illustrious line-up gathered in Oslo for the European Endurance Conference from 4-6 November, as part of the European Athletics Coaching Summit Series.
The conference was organised by the Norwegian Athletics Coaches Association in cooperation with the Norwegian Athletics Federation. A total of 101 coaches attended the three-day conference, including 52 from overseas representing 19 countries.
The programme included lectures from some of the continent's leading coaches including Gjert Ingebrigtsen, the father and coach of middle distance runners Henrik, Jakob and Filip on his sons' successes; Johan Kaggestad, the former coach of distance running greats Grete Waitz and Ingrid Kristiansen on the makings of world-class distance runners; Zbigniew Krol, the coach of two-time European champion and world silver medallist Adam Kszczot on training for the 800m; and 1996 Olympic 800m champion Vebjorn Rodal and his coach Oyvind Sandbakk on the success factors in the two-lap event.
Other highlights of the conference included a presentation from Henrik Larsen on the strategies of Kenyan distance runners over the years and how they can be applied to European athletes while Honore Hoedt, the former coach of world and European indoor 1500m champion Sifan Hassan, led a practical demonstration on running drills and technique in distance running.
The Norwegian Athletics Coaches Association and the Norwegian Athletics Federation would like to thank all participants for taking part in the European Endurance Conference 2016.
The next part of the coaching conference will be the World Javelin Conference which takes place in Kuortane from 17-19 November.
(european-athletics)